By: Brian DeSantis
The quest for the title begins on July 5th for two middleweight competitors at UFC 86: Griffin vs. Jackson. It was recently announced by the UFC that Ricardo "Big Dog" Almeida (9-2 MMA, 2-2 UFC) will be scheduled to fight Patrick "The Predator" Cote (12-4 MMA, 4-4 UFC) for a shot at the seemingly unstoppable middleweight Champion, Anderson Silva (21-4 MMA, 6-0 UFC).
Not having fought in the UFC since January of 2002, Ricardo Almeida made the UFC middleweight division take notice with his flashy guillotine choke finish over Rob Yundt this past February at UFC 81: Breaking Point. Since his last fight in the UFC (also his last loss) against Andrei Semenov, Almeida is currently on a seven-win fight streak with notable wins over Nathan Marquardt, Kazuo Misaki, and Ikuhisa Minowa and the last man to beat Anderson Silva (less the DQ loss to Okami) in the ring, PRIDE veteran Ryo Chonan. Fighting out of New Jersey, Almeida is a Brazilian jiu-jitsu ace, coming from the tutelage of Renzo Gracie.
On the other side of the octagon, there will be "The Predator" Patrick Cote. Since losing to Travis Lutter on the Ultimate Fighter 4 Finale, Cote, much like Almeida, has put together an impressive win streak of four fights, finishing 3 of his 4 opponents in the first round via strikes (Note: the first victory was won via decision over EliteXC's number one contender for the middleweight title, Scott Smith). In Cote's last fight, he was able to make quick work of hard-hitting Drew McFedries at UFC's Fight Night 12 in January. The Canadian native will be looking for another early night when he squares off against Almeida.
Where Yushin Okami, the once claimed next challenger for the middleweight title, falls in the mix is yet to be determined. No formal announcement has been made by the UFC, Okami's team, or Anderson Silva's team on the matter. With neither fighter scheduled for a bout, it is possible that this fight could still happen before Cote or Almeida receive a title shot. Regardless, the winner of Cote and Almeida will be presumably getting a title shot after that fight, should it happen.
For Cote, this is an opportunity to earn a shot at the title; an opportunity he failed to capitalize on when he lost via submission to Travis Lutter. In the case of Almeida, this is an opportunity to prove himself as a legitimate threat to the UFC middleweight champion. If Almeida can win in impressive fashion over Patrick Cote, it is sure to shake up the division. If Cote can shut down another rising star, especially one with the submission game that of Ricardo Almeida, it puts Cote in a position where he can be a visible threat as well. With both fighters coming off a string of impressive wins, and both fighters wanting a shot at the title, this is sure to be an exciting match for any fan.
DISCUSS THIS NEWS IN THE MMANEWS.COM FORUMS >>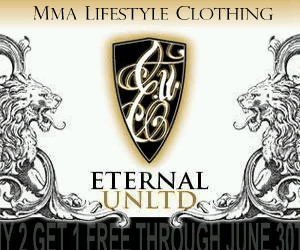 Want to advertise your site in this space? E-mail the website staff today!