Boston— UFC Veteran Dan "The Upgrade" Lauzon returns to World Championship Fighting on Friday June 20th at the Shriners Auditorium. Lauzon is the youngest fighter to have ever fought in the Ultimate Fighting Championship (UFC) at the age of 18. Lauzon, a native of East Bridgewater Massachusetts, is also the younger brother of UFC fighter Joe Lauzon who appeared on The Ultimate Fighter reality TV series which airs on Spike TV. Lauzon will be making his third appearance for World Championship Fighting and is entering the ring riding a five fight winning streak having ended four of the fights by TKO and his last fight via triangle choke submission. His win streak comes as no surprise as Lauzon is one of the most well rounded fighters in all of MMA using his strength, wrestling, submission and striking skills to attack his opponent's weaknesses. Lauzon is confident about his skills saying, "I don't really care where the fight goes, but when I see a weakness in my opponent I go after it, I move in to finish the fight."
His opponent next Friday night will be Brendan Hoxie who is a replacement opponent since Lauzon's original opponent, Sean Wilmott, had to withdraw from the match due to health issues which prevented him from properly training for the fight. Lauzon's opponent has changed a few times, but the fight is now set thanks to Brendan Hoxie stepping up to accept the challenge. Hoxie is no stranger to stiff competition having fought the likes of UFC veteran Tamden McCrory and local fighter Nate Lamotte. For Hoxie this is the opportunity to make his mark by defeating a UFC veteran in Dan Lauzon.
Having fought at the last World Championship Fighting event, an event which saw 3,700 fans fill the auditorium and special guest UFC President Dana White in attendance, Lauzon has been able to showcase his skills to a large audience while still fighting in front of a home town crowd living only an hour away from the venue. Lauzon was also the featured on the TapouT reality show at the last World Championship Fighting event. The TapouT episode will air in late June. In addition to being featured on the Tapout reality show, Lauzon will also be followed by a camera crew from ESPN for a segment regarding children and Mixed Martial Arts. They will document his training and follow up through his fight next Friday June 20th. Asked if he's nervous about his next fight Lauzon said, "No, but I'm anxious. I can't wait to get in the ring and show what I can do. I want my fans to see me put on a good show and my sponsors like Sucker Punch Athletics and Stars Guards know that they chose the right fighter."
Catch the action live June 20th, 2008 at the Aleppo Shriners Auditorium in Wilmington, MA just 13 miles north of Boston off of I-93.
Featured fights include:
Dan Lauzon vs. Brendan Hoxie
Mike Campbell vs. Rich Moskowitz
John Benoit vs. Travis Lerchen
Jamie Campbell vs. Jose Valentin
Dan Bonnell vs. Barrington Douse
Chris Grandmaison vs. Jon Bermudez
Jon Jones vs. Parker Porter
Davin Wesinger vs. Jose Lopez
Ken Stone vs. Mike Oakes
Joe Cushman vs. TBA
Kevin Corrigan vs. Ruben Gonzales
Scott Ledoux vs. Chris Foster
Dan O'Keefe vs. Garth Krane
Stephen Stengel vs. Chad Hart
*Fight card subject to change.*
More BIG news to be announced soon!
Visit WCFighting.com for more.
WHERE: Aleppo Shriners Auditorium, 99 Fordham Road, Wilmington, MA 01887
WHEN: Friday, June 20, 2008.
Special Guests expected in Attendance:
UFC Fighters: Marcus "The Irish Handgrenade" Davis; Kenny "KenFlo" Florian; Joe "J-Lau" Lauzon; Sean "The Gladiator" Gannon; Jorge "El Conquistador" Rivera; Muay Thai Coach Mark DellaGrotte "The Ultimate Fighter 4"; Boxing Coach Peter Welch "The Ultimate Fighter 2."
Ticket Prices: $40, $45, $65, $100, $250
Tickets on sale now!
Or charge by phone at: 1-800-595-4849 Toll Free.
Hotel Accommodations: Special Fight Night hotel rates for World Championship Fighting fans at the Andover Comfort Suites. Call the hotel at 978-475-6000 and ask for the "LWCF" group rate of $62 plus tax, per room, per night. You must call the hotel directly at 978-475-6000 instead of the 877 number. The special "LWCF" group rate is valid June 19th and 20th.
Andover Comfort Suites
4 Riverside Drive
Andover, MA 01810
Phone: 978-475-6000
DISCUSS THIS NEWS IN THE MMANEWS.COM FORUMS >>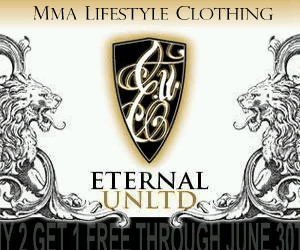 Want to advertise your site in this space? E-mail the website staff today!