EliteXC/Showtime Media Conference Call Notes
MMANews.com's Chris Howie was on todays call with KJ Noons, Yves Edwards, Mushin Corbbrey and EXC's Jeremy Lappin. Cesar Gracie joined near the end of the call because Nick Diaz (who was scheduled to be on) was unable to be there. Gary Shaw was also scheduled to be on the call but was not there. The following notes were taken during the call:
EXC Quick Notes:
-EXC will be introducing a light heavyweight title either before the end of this year or early 2009.
-With Eddie Alvarez success in the DREAM tournament, EXC looks forward to have him and he could possibly fight for the EXC lightweight title.
-EXC are having talks with Tito Ortiz but says that there are a lot of companies are actively pursuing him.
-Lappin says that EXC and CBS were elated about May 31st CBS show. Says that a lot of the negativity came from the more hardcore audience.
-Lappin says that Kimbo get a lot of criticism because he gets so much exposure. Says that they can't control how some of the fights ended up but they stood by this card and were 100% behind it.
KJ Noons:
– Thanks everyone for helping him get ready for the fight, thanks Showtime, EXC, and Yves Edwards for coming out and being his opponent. Says this is a dream for him to be fighting in the main event in his hometown.
-KJ and Yves worked out a bit years back. He thinks that their styles will make this a unique fight. Says that this will be an exciting fight like his past fights.
-Says there were contract issues leading up to the CBS card that got in the way of him fighting on the card. As far as this being a 7 month lay off he has technically been ready since the fight was first scheduled to take place on April 26th.
-Even though their were contract complications there are no hard feelings being Noons and EXC. Says that if there were any problems he probably wouldn't be fighting on a Showtime main event.
-Jeremy Lappin cuts in and says that the reason Noons wasn't on the CBS card was because they wanted him to fight in Hawaii.
-KJ is asked about Yves strengths and says that he believes he has to be ready to go anywhere with Yves because he is so good in every aspect of the sport.
-KJ says that if he doesn't fight on CBS it doesn't bother him because he is happy fighting anywhere.
-Says that it is important that fighters show respect for each other. This is becoming a professional sport and it's time for people to look at it professionally.
-Says that getting a chance to fight in Hawaii on Showtime is really important to him. Says his father used to fight in Hawaii in the 70's and it will be very special for him to fight in front of family and friends at home.
-Feels he has come a long way on every aspect of the game.
-Noons mention that after this fight with Yves he wants to pursue his boxing career.
-Says that if possible he'd like to have the fight with Charles "Krazy Horse" Bennett next if EXC is willing to do it.
-On the topic of the May 31st show, Noons says that any of the hardcore fans that wanted to complain need to train for a while then get in the cage.
–Yves Edwards:
– Yves thanks everyone from American Top Team and EliteXC. Thinks that his will be an exciting fight and that even though KJ is the underdog he belives he can't overlooked KJ.
-Says that even though they worked out back in the day, he doesn't think either of them can go back and think either of them will be the same fighters.
– Looks forward to fighting in Hawaii. Has fought there in the past and is excited to do it again.
– Edwards talks about the importance of organizations all over the world because that means a fighter can go to and get world class experience. .
-Edwards was asked about taking fights on short notice but says that it doesn't bother him because he prefers to always be fighting and training at ATT means that someone is always fighting within weeks of each other so they are always staying prepared.
-Yves talks about how important it is to have that team he has at ATT. In comparison to the team he had in Houston, ATT has been much much better for him.
-Fighting at 160lbs is a little more comfortable because he doesn't have to worry about losing the extra 5lbs.
-Edwards says that it would be cool to fight on CBS because of the exposure, but right now he is focused on taking the gold from KJ
-Says this is an the most important fight of his career.
-Wants to leave the sport with a legacy behind him. Wants to be remembered as a pioneer of this sport. The only way he can do that is by fighting the best guys in the world.
-Even though KJ's stand up is good he feels his stand up is good to. If he has to take it to the ground he feels his ground work is better but he feels he can compete with Noons standing.
-Feels MMA experience could have an advantage in the fight but KJ has had a lot of fights to.
-Yves says he likes to watch tape to prepare for a fight. Has watched a lot of tape on KJ.
-If the fight goes the distance the fight will favour the fans because both guys have good cardio and can bring it.
-Says that he has fought in the past and gotten love from the fans in Hawaii but he has never fought a local boy before. Doesn't think it will effect him if the fans don't support him because he is fighting KJ, not the fans.
-Says that for the first time in his career he doesn't feel any pressure going into this fight because he has so much support behind him.
Mushin Corbbrey
-Excited to be in this fight with Nick Diaz
-Biggest thing he has learned since his last loss is that you can't take anything for granted. Says that he cut down to 145lbs and shouldn't have because he is too big for that weight class.
-Says that some things from boxing work in MMA but everything doesn't transition over.
-Says that he did see Nicks last fight in DREAM and thinks that they match up well.
-Says his boxing experience will come into play against Diaz but that he is dangerous everywhere so he has to be ready.
-Getting a shot at Diaz means a lot to him and the outcome will depend on who wants it more. Thinks he will have to get down a gritty with Nick. Has a lot of respect for him.
Cesar Gracie
-Says that Nick is focused on winning this fight and is not looking past it.
-Nick had surgery on his face so that he would cut less in fights. Gracie feels that now that Nick is not as susceptible to cuts he will be hard to stop.
DISCUSS THIS NEWS IN THE MMANEWS.COM FORUMS >>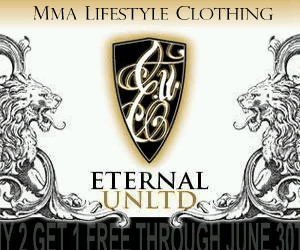 Want to advertise your site in this space? E-mail the website staff today!