Chris Howie reporting: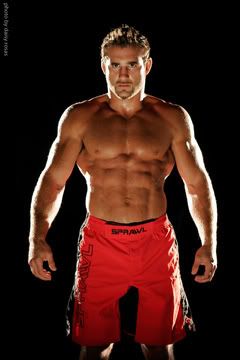 With a record of 10-10-0, Phil Baroni has fought all over the world and against top competition. At one point Phil was very close to being a top contender to the 185lbs crown in the UFC but with four straight losses he found himself out the door.
He's fought over in Japan for the former Pride organization and most recently has been fighting for organizations in the USA of which include, EliteXC, Strikeforce, and Hawaii's ICON. With three straight losses coming against Frank Shamrock, Kala Hose, and Joey Villasenor on CBS, Baroni knew that he needed to make changes to his game if we wanted to compete with the top fighters in the world of Mixed Martial Arts.
Following the loss to Villasenor the decision was made to make a move in weight down to the 170lbs weight class. "I feel the move to 170lbs was needed to resurrect my career" Baroni stated "This has to be a turning point in my career and it is a move that has been long overdue."
Baroni was walking around at 185lbs prior to the Villasenor fight so he did not have to cut any weight and felt that he was giving up size to his competition. "Cutting to 170lbs is easy for me. For Villasenor I was at 185lbs and for Shamrock I was at 191lbs before the fight so I was coming in small."
Travelling to England for the first time will also be a change for Baroni as he will make his Cage Rage debut on July 12th when he has his first fight at his new weight class against Brit Scott Jansen. "Cage Rage is one of the major organizations and I want to fight in all the major organizations. Anderson Silva got his career back on track in Cage Rage and I hope to follow suit. ".
This very well could be a resurrection of Phil Baroni's career at 170lbs. Dropping down will give him a size advantage against his opponents and he will also be bringing in strength and dangerously fast hands that have one punch knock out power. "I feel I have what it takes to be a contender in this division".
Time will tell what exactly the 170lbs division has in store for the New York Badass but with a new focus and drive to be tops at his new weight class Baroni feels he may just have that gold in his eyes that has eluded him numerous times at 185lbs. "I want to earn back my respect and I am willing to do what it takes. My first order of business is winning some big fights and working my way to the top ten. Then if all goes well I'll have my title shot."
And for the people that may overlook Baroni considering his on and off career so far at 185lbs — "Go ahead and overlook me but just don't let me find your chin".