John Beyrooty sent along the following:
Stockton's David "Tarzan" Douglas Will Face Brazil's Marlon Mathias
An 11th and final fight has been added to an already stacked EliteXC mixed martial arts card this Saturday at the Stockton Arena.
A fight at 160 pounds between David "Tarzan" Douglas (3-1) of Stockton, Calif., and Marlon Mathias (5-2) of Curitiba, Brazil, was announced during Thursday's final press conference at the Stockton Arena by EliteXC Head of Fight Operations, Jeremy Lappen.
Known for his prowess as a striker, Douglas, who has won all three of his starts inside the distance, is coming off a third-round TKO (cuts) over Yusuke Ikinishi on May 12, 2007.
Mathias, who also is an excellent striker, has recorded several early knockout victories. A member of Brazil's Chute Boxe Academy, he is making his first start since losing a three-round decision to Conor Heun on March 21, 2008.
"Ruthless" Robbie Lawler will defend his EliteXC middleweight title against Scott "Hands Of Steel" Smith in a highly anticipated awaited rematch in the main event of CBS ELITEXC SATURDAY NIGHT FIGHTS this Saturday.
Tickets for the most significant sporting event in the recent history of Stockton start at $35 and can be purchased at the Stockton Arena Box Office (Tuesday-Friday, 10 a.m.-6 p.m.) and Saturday (noon-4 p.m.), by phone at (209) 373-1700 and (866) 373-7088 (toll free) or online at www.stocktontickets.com.
The event is presented by Los Angeles-based ProElite, Inc.'s live fight division, EliteXC. Doors open at 2:30 p.m. PT. The first live fight is at 3:15.
Mixed martial arts fans arriving when the doors open will have the opportunity to meet Kimbo Slice and Gina Carano when they participate in a pre-fight autograph signing just prior to the opening bell. They will sign autographs inside The Stockton Arena from 2:30 p.m. to 3:15.
Other fights during a two-hour broadcast on the CBS Television Network (9 p.m.-11 p.m. ET/PT): Jake Shields and Nick "The Goat" Thompson collide for the vacant EliteXC middleweight title, Nick Diaz faces Thomas "Wildman" Denny and Shayna "The Queen Of Spades" Baszler battles Cristiane Cyborg.
The Douglas-Mathias fight, scheduled for three, 5-minute rounds, will serve as a "swing" bout, meaning it could be shown, time permitting, during the CBS broadcast. If not, it will be non-televised and take place after the main event.
Antonio "Big Foot" Silva and Justin Eilers will clash for the vacant EliteXC heavyweight title in the main event of the one-hour SHOWTIME telecast that begins at 8 p.m. ET/PT. In other SHOWTIME fights, Rafael Feijao faces Travais Galbraith and Wilson Reis collides with Bryan Caraway.
DOUGLAS DELUCA, EXECUTIVE CHAIRMAN, PROELITE, INC.
"After a great show on May 31, we at ProElite got together with our partners, CBS and SHOWTIME, and said `lets keep this going.' We listened to the fans, to the media and I think you're going to see an outstanding show from top to bottom.
"Stockton is a great city for MMA. The city has been great to us and so has the Stockton Arena where these warriors will fight Saturday. We are very proud of what we're doing.
"I always have to thank the fighters because they come out and we see their hearts and souls when they fight. It's all they want to do and we're fortunate to see them perform."
ROBBIE LAWLER
"I can't wait to fight Scott. I don't say much at press conferences. You guys know almost everything about me and Scott, so, you know you're going to get an exciting and memorable fight."
SCOTT SMITH
"In the first fight I got hit way too much. In training camp we worked on some things that will remedy that.
"As a fighter you can't place too much importance on any fight. I think when you do that you start thinking and analyzing too many things at once which can lead to confusion in the ring.
"I can't let Lawler find any kind of rhythm because once Lawler gets rolling, he's hard to stop. I have to keep him off balance.
"Robbie is a great fighter and I'm honored to fight him a second time. This fight can only be exciting. Robbie and I don't know how to put on boring matches."
JAKE SHIELDS
"I think Nick is jumping the gun by saying that he is going to be the new welterweight champ. He's a tough guy, but he's going to have a lot of trouble with me.
"I'm ready to go. I wish the fight were today."
NICK THOMPSON
"I'm excited to be fighting Jake Shields. You're looking at the new welterweight champion because I intend to beat Shields."
NICK DIAZ
"Fighting in Stockton is going to be great for me. I'm pumped to be fighting against Thomas Denny because he brings action to all his fights.
"Stockton is a great fight town because if you drive long enough on some of these roads you'll probably see a pretty good street fight.
"There's a little bit more pressure for this fight because it's in my hometown. I'll have a lot of familiar faces in the audience. I don't mind the pressure though. It will just make me mentally stronger.
"I'm happy to be fighting Denny because I always see him on every magazine. I'm never in any magazines so maybe when I win I might get some love from a few publications."
THOMAS DENNY
"The odds have me as the underdog and I'm OK with that. I don't mind that role, I actually relish it.
"I think Nick is a great opponent for me. There's been a lot of build up for this match. We're both going to come out aggressively. It's going to be a great fight with lots of action. Look for a blood bath on Saturday."
SHAYNA BASZLER
"I want to press the action and give the crowd a fun and exciting fight.
"I want to fight for titles. That's what every fighter wants. I can certainly compete with elite fighters. I know my time will come soon.
"I'm really honored to be one of the first female fighters on CBS. If you're a female fighter, your best option is to come to EliteXC because they really do embrace you with open arms.
"My fight against Cris, I think, will be talked about for a long time because she is a great competitor. She's relentless and aggressive and that's the type of fighter I want to fight."
CRIS CYBORG
"This is a great opportunity for me to show my abilities on national television. I won't stall the fight. I'm here to show everyone a great time. I want to leave a lasting impression on the fans."
ANTONIO SILVA
"I have to give Justin different looks. I can't let him figure out my fighting style in the first round. By changing speeds and styles, I think I'll be able to win this fight. Justin is a big guy with good speed. I'm definitely not looking past him.
"I'm coming to win this title. This is what every fighter wants and it's what I intend to get on Saturday."
JUSTIN EILERS
"I'm a gym right now. I'm in the gym six times a week, two or three times a day. You can't take shortcuts in this business. I'm doing everything I can to be the best.
"I'm a more mature fighter now. I'm lighter, faster and stronger.
"I'm ready to bring it. You guys are going to see a great fight because I'm not a back down type of fighter. You won't ever see fear in my eyes."
RAFAEL FEIJAO
"I have a lot of things to show off in this fight. My ground game is rock solid and now people will get the chance to see how much I've improved as a stand up fighter."
TRAVIS GALBRAITH
"I've added more strength and conditioning training to my routine, which has me much leaner and quicker. I can strike at a much faster pace.
"I took this fight on short notice but that doesn't matter because I'm ready to go. Feijao is tough and dangerous, but so am I."
WILSON REIS
"It's a big fight and a big show for me. I worked extremely hard for this fight. Bryan is a tough guy who is just as hungry to win as I am.
"I just have to stick with my strategy and build momentum and I should be fine."
BRYAN CARAWAY
"I'm really excited to be on this fight card. It's a great chance for me to show my skills.
"I've been fighting for five years now and this is what I do. I don't do anythi= ng else but fight. I love what I do and on Saturday people will see what I'm all about."
DISCUSS THIS NEWS IN THE MMANEWS.COM FORUMS >>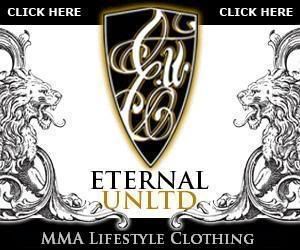 Want to advertise your site in this space? E-mail the website staff today!