---
I think writing Dan Hardy off would be the least intelligent thing to do here. He's got the knockout power that GSP does not, and even if that is his only advantage, it's a big one. He's got good stand-up and he could end GSP's reign of dominance with one swing. I'm not going all out saying Hardy will knock GSP out in dominant fashion, just saying that Hardy is deserving, and has a shot at winning. Btw, Shields sucks, never let him in the UFC. We have enough bump and grinders thank you.
__________________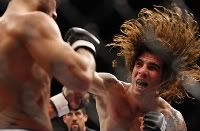 Favorite Fighters of all time: Ken Shamrock, Fedor, Guida, Barnett, Mayhem, Hendo, Cro Cop, Wanderlei, Evan Dunham, Big Nog, Sonnen, Penn, Condit, Bader, Evan Tanner, Matt Serra, and of course, Chuck.
Least Favorite Fighters ever: Lesnar, Tito, Shields, Evans, Koscheck, Mir, Maynard, this new Anderson and Aoki.
I hate Lesnar now, I hated Lesnar then, I will always hate Brock Lesnar.