Status: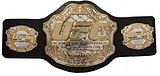 Join Date: Nov 2008
Location: Where I live? No I ask the questions here
Posts: 18,203
UFC 155 Officially Draws 13,561 Attendance For $3.3 Million Live Gate
---
UFC 155 officially draws 13,561 attendance for $3.3 million live gate | News
Quote:
This past month's UFC 155 officially drew an attendance of 13,561 for a live gate of nearly $3,286,025.

Nevada State Athletic Commission Executive Director Keith Kizer on Monday released the figures to MMAjunkie.com (UFC blog for UFC news, UFC rumors, fighter interviews and event previews/recaps).

Officials initially announced an estimated attendance of 12,423 for a live gate of $3.286 million. The gate was on target, but officials' original attendance figure was low.

UFC 155, the promotion's year-end card, took place Dec. 29 at MGM Grand Garden Arena in Las Vegas and featured a heavyweight title fight between Junior Dos Santos and former Cain Velasquez. Velasquez dominated the champ for five rounds to reclaim the belt in the main event.

The figures are short of the MGM Grand Garden Arena's best UFC attendance and live gate figures, though. Compared to 2011's UFC 141 year-end card, UFC 155 did similar numbers. UFC 141 drew 13,793 fans for a live gate of $3.1 million. Although UFC 155 was just shy of that attendance figure, it outpaced it financially.

Before UFC 155, the promotion's previous event at the MGM Grand Garden Arena, July's UFC 148, set a box office record for the venue with $6.9 million on 15,104 attendance. That card featured a rematch between Anderson Silva and Chael Sonnen.

For UFC 155, 10,590 tickets were sold, while 2,971 "comp" tickets were issued. A total of 347 tickets went unsold. The average paid ticket price was $310.30.

The MGM Grand Garden Arena's all-time top UFC gates as compiled by MMAjunkie.com include:
UFC 148 (Silva vs. Sonnen II): $6,901,655 gate (15,104 attendance)
UFC 66 (Liddell vs. Ortiz II): $5,397,300 (13,761 attendance)
UFC 91 (Couture vs. Lesnar): $4,815,675 (14,272)
UFC 71 (Liddell vs. Jackson): $4,304,000 (14,728)
UFC 94 (St. Pierre vs. Penn II): $4,290,000 (14,885)
UFC 116 (Lesnar vs. Carwin): $4,053,990 (12,740)
__________________
There are many paths to freedom....not all are peaceful.