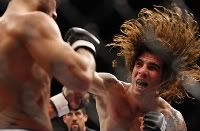 Favorite Fighters of all time: Ken Shamrock, Fedor, Guida, Barnett, Mayhem, Hendo, Cro Cop, Wanderlei, Evan Dunham, Big Nog, Sonnen, Penn, Condit, Bader, Evan Tanner, Matt Serra, and of course, Chuck.
Least Favorite Fighters ever: Lesnar, Tito, Shields, Evans, Koscheck, Mir, Maynard, this new Anderson and Aoki.
I hate Lesnar now, I hated Lesnar then, I will always hate Brock Lesnar.