FOR IMMEDIATE RELEASE
Deprived of the UFC Heavyweight Title amidst Controversy, "The Giant" of MMA Announces His Comeback
Standing Six-Foot, Ten-Inches Tall, Gan "The Giant" McGee Fights for the First Time in Four Years at Xtreme Fighting Championships' "Salute to Our Armed Forces V" on Saturday, September 13 at the St. Pete Times Forum
Tampa, FL (7/29/08): For nearly three straight years, six-foot, ten-inch Gan "The Giant" McGee demolished everything in his path — not just going undefeated during this stretch in the cutthroat world of MMA, but stopping every single opponent in the first round. Ruthless and intimidating, he ran roughshod over the heavyweight division, opening his career with 12 victories by first round knockout or submission. He KO'd Pedro Rizzo and Alexandre Dantas in back-to-back outings on UFC Pay-Per-View extravaganzas, and was finally ready to realize his boyhood dream of becoming a world champion when he agreed to meet UFC heavyweight titlist Tim Sylvia in "The Battle of the Giants" at UFC 44. The date was September 26, 2003.
And that's when "The Giant" fell back to earth — amidst a steroid controversy that rocked the entire Mixed Martial Arts industry.
Reigning champion Tim Sylvia — who's a six-foot, eight-inch colossus in his own right — overpowered McGee, stopping him by TKO 1:54 in the first round. Many at ringside were shocked by the ease of his victory. But if there were any suspicions regarding the source of Sylvia's surprising power, they were arguably confirmed in a post-fight drug test: Sylvia tested positive for Stanozolol, the same anabolic steroid that cost sprinter Ben Johnson the gold medal in the 1988 Summer Olympics. He was stripped of his heavyweight title, suspended from action for six-months, and fined $10,000 by the Nevada State Athletic Commission. Sylvia later admitted to knowingly taking the steroids, claiming they were used to shed excess body weight. UFC decided to count Sylvia's victory in its official record books anyway, effectively pushing McGee out of the heavyweight title picture.
And Gan "The Giant" McGee never again fought on American soil.
"Tim Sylvia is a great fighter and the video tape doesn't lie: He beat the hell out of me," remarked McGee from his San Luis Obispo training camp. "Did the steroids make a difference? Different people have different theories, I guess. But for me, what hurt the most was sacrificing absolutely everything I had to finally achieve my dream of becoming a world champion… and then falling short. And when it became clear that UFC wasn't going to consider me for a second title shot, my entire world collapsed. I felt like a part of me had just died. It was… beyond devastating."
Also devastated was McGee's psyche. In one fell swoop, his aura of invincibility was irrevocably shattered; he went from fear-inducing phenom to just another overhyped also-ran. Hoping to rebuild his career away from the bright lights of the American media, McGee joined the Japanese-based PRIDE Fighting Championships. He fought twice in Japan, losing once by split decision and once by armbar submission. He was just a shell of his former self; MMA experts doubted if he'd ever reclaim his former greatness.
"Culturally and personally, being in Japan was an amazing experience," McGee reflected. "I mean, from the ceilings to the shower fixtures, everything is so small over there — I felt a little like Godzilla trampling the villagers! But professionally, I never really recovered from the Sylvia fight. Mentally, I lost that edge — that killer instinct. Call it the `Eye of the Tiger' or whatever you want; I was just going through the motions, unfocused and uncaring. And after losing my second fight in the Orient, I swore to myself that I would never step foot in a steel cage again — not until I regain my warrior's mentality."
That was four long years ago.
On September 13, 2008, Gan "The Giant" McGee will return to the steel cage in Xtreme Fighting Championships (XFC)'s "Salute to Our Armed Forces V" mega-event at the St. Pete Times Forum in Tampa, Florida. This will be XFC's fourth fight card at the Forum; the three previous cards each drew over ten thousand fans. For McGee, it will also mark the first time he's fought on American soil since his controversial loss to Tim Sylvia, almost five years ago to the day.
McGee swears he's regained his long-lost fury and intensity — and that his boyhood dream of becoming the heavyweight world champion is still within his enormous grasp. "My killer instinct is back, and trust me — it's never been deadlier," he declared, while firing haymaker after haymaker at his concaved heavy bag. "It took years of introspection and self-discovery, but I finally realized that God made me a giant and blessed me with this mind-blowing power for a reason: to be the most destructive heavyweight champion that's ever walked on planet earth. Writers write, teachers teach — and giants destroy. For so many years I tried to run away from my destiny — to be something I'm not — but that part of my life has come to a screeching halt. My intensity level is off the charts right now; if I've gotta tear down buildings, smash open skulls or annihilate whole cities to get another title shot, then that's what I'll do. This time around, `The Giant' will stand tall."
Gan McGee will be facing hard-hitting submission expert Johnathan Ivey — a 250-pound MMA veteran of 60 professional fights who has battled the likes of Dan Severn, Ben Rothwell and Jeremy Horn. When asked to comment, Ivey said simply: "Everyone likes to run their mouth — right until they're smashed in the face with a fist or knee. McGee should've stayed retired."
For those outside the Tampa area, live streaming of XFC's "Salute to Our Armed Forces V" will be available on www.mmaxfc.com.
DISCUSS THIS NEWS IN THE MMANEWS.COM FORUMS >>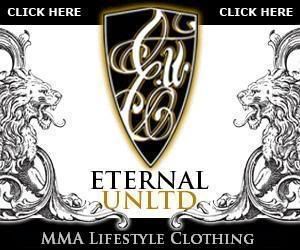 Want to advertise your site in this space? E-mail the website staff today!