By Chris Howie
October 5th, 2008
So anyone out there that may have thought Kimbo Slice would be the number one ranked heavyweight in the world someday was really only kidding themselves. The problem with that all comes down to the way EliteXC has marketed him.
Kevin Fergusen just wanted to fight, which is obvious because he made a name for himself fighting on the internet against bums in back yards and parking lots. When he decided to make the move into the MMA universe people cringed, but Kimbo knew what he was doing.
Kimbo was and still is a bad motherfucker. There is no denying that. Fans hate on Kimbo because they feel as though he got pushed to the top when there were many fighters that deserved it over him. But not every fighter can be marketed the way Kimbo Slice can. This is a story of not hating the player, but hating the game.
When EliteXC signed Kimbo Slice they had dollar signs in their eyes. They knew that fans would watch their product because they were showcasing "the internet street fighting legend". You can't hate Kimbo for being there when EliteXC decided to throw an abundance of money at him and put him in main event slots against the likes of Bo Cantrell or Tank Abbott. You can't hate him because EliteXC set it up so his next opponent would be Ken Shamrock instead of Brett Rogers. And you can't hate Kimbo Slice because he got knocked out last night by relative unknown Seth Petruzelli.
If anything, hate EliteXC, hate Jared Shaw. They are the ones that set this all up. Last night when Kimbo Slice lay sprawled out on the floor, Jared Shaw can be seen in the background screaming at the referee about a shot to the back of the head. When questioned about it later he stated that it was because he wanted the best safety for the fighters.
Bullshit.
…Continued below photo…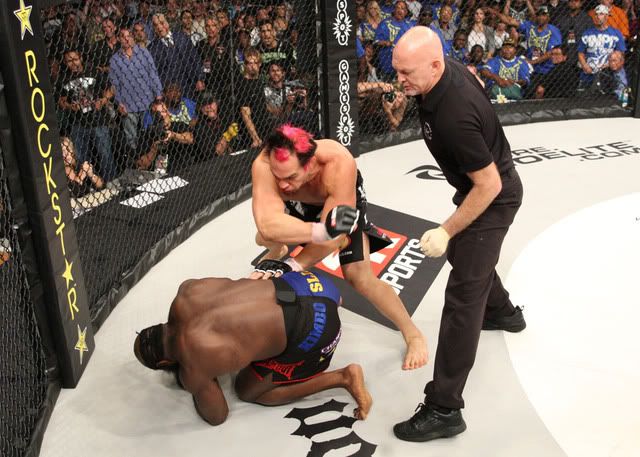 Photo Credit: Tom Casino/EliteXC/CBS
Shaw was pissed because he just watched his money train get derailed. Plainly and simply and that is the reason why fans hate Kimbo Slice, because he is the money train for somebody else and getting marketed in a way that make the hardcore audience hate him. How many times have you see Dana White jump out and down screaming at the referee? None. Why? Because Dana is unbiased at the end of the day. Sure, Chuck Liddell may be his boy and it probably killed him inside watching "The Iceman" get laid out by Rampage Jackson and Rashad Evans, but you didn't see him get all out of sorts over it.
This loss may be the best thing to possibly happen to Slice. It will lift the weight off his shoulders that EliteXC so heavily threw down upon him. Now we can see fights like Kimbo vs. Rogers, or Kimbo vs. anyone for that matter that actually stands a chance. The reasons why we haven't been seeing those fights lay solely in the hands of the EXC brass.
For every risk there is a reward and by still fighting last night with Ken Shamrock out due to a cut, Slice may have lost but still came out looking good. He was very humble towards Petruzelli and did not have a bad thing to say. At the post fight conference he joked "this guy knocked me out in front of my family. What the fuck is up with that?"
Those are the reasons people should be loving this guy. He trains his ass off, he only wanted to be a fighter in this MMA fight game, and he is one of the nicest most humble people in the sport. Like all of us, Kevin Fergusen just wants to bring a pay check home to support his family. Why hate on that?
Kimbo will live to fight another day and deserves credit where it is due for the fact that he did step up and fight Seth even though he had no clue who he was. He didn't let the show sink when Shamrock was forced out. He could have, he probably should have, but he didn't.
This is not the last we see of "the internet street fighting legend".
DISCUSS THIS NEWS IN THE MMANEWS.COM FORUMS >>
Want to advertise your site in this space? E-mail the website staff today!