Bob Clarke sent along the following:
Guida steps up as injury sidelines Monson
Jason Guida has managed to cram an entire mixed martial arts career into less than five years.
Known as a hard-nosed competitor who never turned down a fight, Guida was a natural replacement when a broken hand forced Jeff Monson to withdraw from the main event of this Saturday's Adrenaline MMA show near Chicago.
"Say what you will about Guida, but when you need somebody to jump in on short notice and fight anybody… he's the guy," said Adrenaline CEO Monte Cox. "I mean, we all know he's crazy… but he also comes to fight and you never have to worry about him laying down for anybody. I know this will be a very good main event."
A native of the Chicago area, Guida's fighting resume includes almost 40 professional fights all over the world… Russia, Costa Rica, Mexico, Poland. The guy simply loves the competition. And, the tougher the better.
On Saturday at the Sears Centre Arena in Hoffman Estates, Ill., Guida (23-16) will face Chicago police officer Mike Russow (9-1) in the main event of the 14-fight show. The main fights will be televised live on HDNet, beginning at 9:30 p.m. (EST).
"I feel bad for Monson because he really wanted this fight," Cox said. "But his broken hand wasn't healing quick enough and you can't fight at this level with that kind of injury. I'm just fortunate that we had such a quality replacement right in Chicago."
Guida is the older brother of UFC lightweight standout Clay Guida, who will be in the corner.
For more information, check out www.adrenaline-mma.com and www.searscentre.com.
Complete lineup:
Main Card
Joe Pearson (22-9) vs. John Hosman (8-3-1)
Louis Taylor (4-0) vs. Adam Maciejewski (6-4)
Joe Jordan (41-11) vs. Ryan Williams (6-1)
Dom O'Grady (5-0) vs. Mike Stumpf (9-1)
Hector Urbina (11-3) vs. Dave Kleczkowski (6-3)
Aaron Rosa (10-2) vs. Ron Fields (23-24-1)
Herc Hayes (7-5) vs. Kerry Schall (22-9)
INTERMISSION
Jameel Massouh (15-3) vs. Clay French (14-2)
Jay Ellis (11-15) vs. Rory Markham (14-4)
Jeff Cox (9-6) vs. Bart Palaszewski (28-11)
Anthony Lapsley (13-3) vs. Mark Miller (9-3)
Forrest Petz (11-5) vs. Brian Gassaway (25-17-1)
Daiju Takase (7-11) vs. Terry Martin (16-4)
Main Event
Jason Guida (23-17) vs. Mike Russow (9-1)
DISCUSS THIS NEWS IN THE MMANEWS.COM FORUMS >>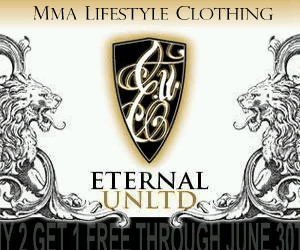 Want to advertise your site in this space? E-mail the website staff today!