Mike Afromowitz sent along the following:
SAN JOSE, Calif. — Jeff Shamrock, nephew of MMA Legend Ken Shamrock, has signed a multi-fight deal with world championship fight promotion, Strikeforce. Shamrock's first fight under the San Jose based organization will be announced soon.
"I am definitely excited to have Ken Shamrock's nephew as a part of the Strikeforce team," said Strikeforce CEO, Scott Coker. "Jeff possesses that incredible Shamrock strength that his family is known for. I expect great things from Jeff and look forward to his professional debut."
"I am very thankful for this opportunity," said Jeff Shamrock who, at 18 years old, is the youngest member of Ken Shamrock's Lion's Den Reno Elite Fight team. "Signing with Strikeforce gives me a chance to put all of my training to the test, and to develop an elite fighter. I am really looking forward to fighting for them."
According to Ken Shamrock, "Jeff is a very strong and aggressive fighter. He has been training hard and has developed impressive skills on the mat, including his take down and submission skills. I have no doubt that Jeff will do extremely well."
Jeff Shamrock is expected to make his professional debut at the next Strikeforce event, fighting at 170 pounds. In his amateur debut in August, he defeated Kyle Davey by way of first round submission at Feather Falls Casino in Oroville, Calif.
About Strikeforce
Strikeforce is a world-class mixed martial arts cage fight promotion which, on Friday, March 10, 2006, made history with its "Shamrock vs. Gracie" event, the first sanctioned mixed martial arts fight card in California state history. The star-studded extravaganza, which pitted legendary champion Frank Shamrock against Brazilian Jiu-Jitsu black belt Cesar Gracie at San Jose's HP Pavilion, played host to a sold-out, record crowd of 18,265. Since 1995, Strikeforce has been the exclusive provider of martial arts programming for ESPN and, after 12 years of success as a leading, world championship kickboxing promotion, the company unveiled its mixed martial arts series with "Shamrock vs. Gracie." Since then, it has co-produced the first SHOWTIME PPV mixed martial arts event in history with its world championship "Shamrock vs. Baroni" card on June 22, 2007.
DISCUSS THIS NEWS IN THE MMANEWS.COM FORUMS >>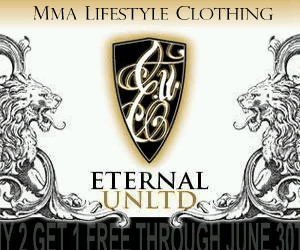 Want to advertise your site in this space? E-mail the website staff today!