From MMAWeekly.com:
Affliction Entertainment, scheduled to make its MMA debut on July 19 at Honda Center in Anaheim, Calif., keeps building this event with the latest news — heavy metal band Megadeth, led by frontman, guitarist, and songwriter Dave Mustaine, will be performing live at the event.
According to a spokesperson for Affliction, Megadeth will be performing a key points during the event itself.
The platinum selling band has sold more than 20 million albums worldwide and will perform a special highlight performance. Known for their distinctive, in-your-face guitar solos, snarling vocal style and dark lyrical themes, Megadeth is sure to resonate with the "Affliction Banned" fan base and intensify the already action-packed event.
DISCUSS THIS NEWS IN THE MMANEWS.COM FORUMS >>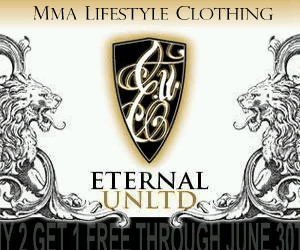 Want to advertise your site in this space? E-mail the website staff today!