By Chris Howie
September 17th, 2008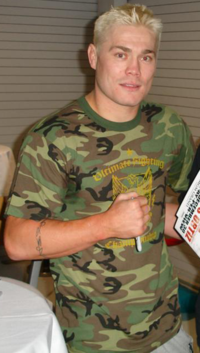 This Saturday when Strikeforce returns to the Playboy Mansion for their second show in Hugh Hefner's backyard, the main event of the evening will see Joe "Diesel" Riggs takes on Kazuo Misaki in a middleweight clash that will be te last fight fans will see Riggs in the division win or lose.
After a back injury took him out of action for most of 2008 as well as problems with the CSAC, Riggs returned in July with a win over Matt Dempsey and will now look to pick up a win over the 2006 Pride Middleweight Grand Prix winner.
MMANews.com's own Chris Howie caught up with Riggs this week to discuss his bout on the weekend as well as many other topics. Riggs pulls no punches in this exclusive interview and tells some great stories that fans may not have known about.
Chris Howie of MMANews.com: You have a big fight coming up on Saturday when you fight Kazuo Misaki on the Strikeforce at the Playboy Mansion II card, what are your thoughts going into this fight?
Joe Riggs: Just really excited. I've been training really hard for this one and it is a perfect fight for me to end my career at 185lbs with and get back to where I was at one time.
MMANews.com: You mentioned this as your last fight at 185lb weight class, do you plan on dropping weight and moving back to welterweight?
Joe Riggs: Yeah I'm going back down to 170lb. My body finds it a lot easier to cut down to 170lb. My body just naturally drops weight so it's easier for me to go to 170lb.
MMANews.com: At one point in your career you were fighting at heavyweight, would you say that the welterweight division is the perfect weight class for you?
Joe Riggs: Yeah it is. Right now I'm walking around at about four or five pounds above 185lbs. I'm dieting and I always eat clean. I'm not even really dieting as hard as I normally have to and I'm right there at 185.
MMANews.com: What are your thoughts on Misaki?
Joe Riggs: I think he is a great fighter. He has an awkward style that gives a lot of people problems and he is prone to going to the decision but I think he is a great match up for me and styles make fights. I feel like I'll be able to exploit a lot of his weaknesses. When I was offered the fight I knew this was a great opportunity for me because he has beat a lot of great fighters and beating him could be really good for me.
MMANews.com: He is usually ranked within the top at middleweight or borderline ten at the very least. What could a win over him do for you?
Joe Riggs: I think it could put me back within the top ten. I've been ranked as high as sixth at middleweight before and fourth at welterweight so I think this could put me back within the top ten and especially if I do it in impressive fashion.
MMANews.com: What advantages do you see yourself having?
Joe Riggs: I feel as though I will be stronger than him and I pack more punching power than him as well. I'll also be quicker than he will. I throw straighter and more technical punches than him. As a south paw I think I can cause all kinds of problems. I don't want to take it to the ground, I want to keep it on the feet and I feel that is what he will want to do to.
MMANews.com: All of your wins have come in a variety of ways. Where are you best served against him?
Joe Riggs: I'm more comfortable on the feet as long as I'm doing well and such. I feel has I'm going to be a better wrestler than he is so if I want to take it to the ground I should be able to and I think my ground and pound is just as good as anyone's in the world. I'm not going to rush anything, I want to stand and bang as long as I feel good and if the take down is there I'll go for it but if not, I'll just keep it on the feet.
MMANews.com: How is your cardio and conditioning coming into the fight?
Joe Riggs: My cardio is great man. I've trained for this fight quite a while……Aww man I'm watching TV and I'm seeing myself get knocked out by Diego (Sanchez), I always love seeing those commercials……anyways, I've been training for a while and I've been in really good shape. I trained a few weeks with Jeremy Horn and Billy Rush and I'm training in Vegas now.
MMANews.com: Watching yourself get knocked out on TV, what is it like for a fighter to see himself being on someone else's highlight reel?
Joe Riggs: Dude I am a fucking highlight reel. It seems like every time I watch the UFC there is some clip of me getting beat by someone. It sucks. It's not good because I'm a good fighter and have had some great wins. I think the UFC has been unfair because I've had some fight of the night wins before in the UFC and they never show that. Every time I turn it on I see myself getting choked out by (Mike) Swick, or arm barred by (Matt) Hughes, or knocked out by Diego. I can understand the Diego knockout because everyone likes to see a big knock out but it sucks man. It's demoralizing. People say that anytime you are on camera it is good but I don't like that shit. It's not fun.
MMANews.com: You've won three out of your last four fight with your last win coming in July at Rage In The Cage 112, how did that help mentally to pick up the win after returning from a serious back injury?
Joe Riggs: It was good to get the win but I don't consider that fight to that Cory Devela guy a loss. I hurt my back bad in that fight. It was still good to get the win against Matt Dempsey though. He was a good fighter.
MMANews.com: With you moving to the welterweight division following this fight, who are some fighters at the weight class that you have your eye on?
Joe Riggs: I think Diego is a really cool guy and all, and I like him, but I would really like to avenge that loss. Anytime you lose in that fashion you want to get in there and do it again because that is not what was suppose to happen. I'd like to fight guys like Jon Fitch, anybody in the top ten, any day. I want to fight Nick Diaz again, that was a really fun fight and Nick is a great guy. Anyone man, there are a lot of tough fights at 170lbs
MMANews.com: Could we see you come back to the UFC at some point?
Joe Riggs: With the UFC, I left them in my own regards. I wasn't asked to leave. I left because of some of the disputes I had with Joe Silva. It all depends now on what happens when the Strikeforce contract is up. They treat me well so we'll see what goes on there. It's all about who is willing to pay me the best money.
MMANews.com: So what is the story behind leaving the UFC?
Joe Riggs: After I had my back surgery, you know, they never did me any favors. I don't think I fought anyone that was outside of the top ten when I was in the UFC and after my back surgery, I came back and they wanted me to fight Nate Marquardt and I wanted an easier fight and then they were talking about me going down to the WEC and I was upset because I had the WEC belt and they were talking about me fighting in non title fights because I wasn't the champion. They didn't let me keep the belt. They let other people keep the belts so after my injury I just said I was going to look at other options and they gave me my release.
MMANews.com: So technically you could be considered the champion because you have never lost the belt.
Joe Riggs: Yeah, I won the belt from Rob Kimmons and never lost it to anyone which is bullshit because I got the belt sitting at home here and they were letting everyone keep their titles like Doug Marshall and Urijah Faber and all those guys that didn't really have names back then, I mean, Urijah was a kid coming up at this point and noly anyone knew who he was. I was the biggest name coming down to the WEC and they didn't let me keep my belt. I was pissed off all around over that because there was no reason for them to take my belt and they did.
MMANews.com: Who has helped you train for this upcoming fight?
Joe Riggs: I was working with Jeremy Horn for a while then I went down to Las Vegas and I was working with Mike Pyle, John Alessio, Mac Danzig, and all those guys and now that I'm back in Phoenix I am working with Edwin Dewees and Rick Roufus. Working with Rick is great because he has a style like Misaki's so it has been great.
MMANews.com: How many fights do you have left on the Strikeforce contract?
Joe Riggs: I have this one against Misaki and then one more after that.
MMANews.com: Who are some fighters at 170lbs outside of the UFC you would like to fight?
Joe Riggs: Aww man that's a good question. Jake Shields would be a fun fight. That would be a fun fight to take. Besides Jake Shields I can't think of anyone else that is really out there. The UFC has the best welterweights out there.
MMANews.com: Have you ever had talks with EliteXC?
Joe Riggs: You know, I haven't. Two days after I left the UFC I signed with Strikeforce. You never know. I have my options open to anyone but Strikeforce treats me very well.
MMANews.com: What is it like fighting again at the Playboy Mansion?
Joe Riggs: It's cool. Its fun getting to fight somewhere that people are not really allowed going. It's weird to fight in front of crowd like that because most of them are not MMA fans but it's cool.
MMANews.com: So you would prefer fighting in front of the bigger crowd?
Joe Riggs: Yeah I always like fighting in front of a big crowd. It gives me more energy. It's different fighting in front of the crowd at the Mansion because they aren't always watching the fight. They are drinking and talking amongst themselves and not paying attention while a fighter is out there bleeding on the mat for them.
MMANews.com: What about fighting in front of a Japanese crowd?
Joe Riggs: The Japanese fans are great to. They are very respectful you know? You could be out there grappling for a half an hour and they will just sit quiet and then get up and clap and show their appreciation for it when it is over as opposed to American fans that aren't happy unless someone is getting laid out. So I guess in that aspect the Japanese fans are better.
MMANews.com: But you find you get more of an adrenaline rush from the American crowd?
Joe Riggs: Yeah it's kind of like a gladiator thing where they call for blood and you just give it to them and they love it but it is kind of like a double edged sword where if there is a 10-15 second period where you are just feeling him out then they hate it and they will boo you. At UFC 60 when I lost to Swick this fat drunk was screaming at me when I was walking out after the fight "FUCK YOU RIGGS, YOU PIECE OF SHIT, I HOPE YOU DIE!", American fans can be swine's Canadian fans are really cool. Those fans are very respectful and cool and they really appreciate the fighters. I really enjoy it in Canada.
MMANews.com: You've had a lot of back problems in the past. How is the back doing nowadays?
Joe Riggs: The back is doing great. I do a lot of the right things now, I stretch it right and I see my chiropractor. That is something you can't neglect because that will be bad. Everything is a lot better than it was and it is doing great.
MMANews.com: Now you've been pulled from a card in California in the past due to issue they had with a prescribed medication you were taking. Do you see yourself having problems this time?
Joe Riggs: That was devastating. I was really upset about that one. I told them that I took a non-narcotic pain killer which is like Ibuprofen. I told them I took it four days before the fight and they still wouldn't let me fight. It was horrible.
MMANews.com: Are you still taking it now?
Joe Riggs: Well if I'm hurting or something but not now because I'm not going to do anything to jeopardize this fight.
MMANews.com: Do you think the CSAC will give you problems?
Joe Riggs: I hope not man. Armando Garcia can be a tough guy to deal with sometimes. My training partner Rick Roufus is having a hard time with him. He just likes to throw his weight around. I hope saying these things about him doesn't come back to bite me in the butt, but he says and does a lot of things for no reason at all.
MMANews.com: You have fought some of the biggest names in the sports, which have been your favorite fights?
Joe Riggs: The Nick Diaz fight was great. All the big fight you know? The Joe Doerksen fight was another good one to. My favorite fights were the ones where I've had my head screwed on straight and when your head is straight that is when it tends to be fun.
MMANews.com: One fight I've seen on your record is against UFC referee Herb Dean. Herb hasn't reffed any of your fights has he?
Joe Riggs: No he won't do it. It's tough because Herb is a good referee. He doesn't want anyone to say that it was unfair because I whipped his ass before you know?
MMANews.com: Do you think he might hold a grudge for you beating him?
Joe Riggs: [Laughs] I beat the piss out of him man. He tapped out from strikes. I hit him with a straight left hand and knocked his teeth out and then jumped on him and pounded on him. I think might be a bit upset about that. He did get to fight a big name though. Anyone that gets in the cage you have to give'em credit.
MMANews.com: Alright Joe, Thanks for speaking with me today and I'd like to wish you luck in your fight Saturday against Misaki.
Joe Riggs: Alright thanks buddy.
DISCUSS THIS NEWS IN THE MMANEWS.COM FORUMS >>
Want to advertise your site in this space? E-mail the website staff today!