MMANews.com Exclusive: Interview With Evan Tanner
Posted on Jun 17, 2008
After making his return to action in March with a loss to Yushin Okami after a near two year hiatus from the sport, former UFC Middleweight Champion Evan Tanner will look to get back on the winning track this Saturday, June 21st, when he goes up against TUF 3 winner Kendall Grove. In this MMANews.com exclusive interview, Tanner talks with Chris Howie about a number of topics.
Chris Howie of MMANews.com:
How are things Evan?
Evan Tanner:
Everything's going great.
MMANews.com:
How has training been going leading up to the fight with Kendall Grove?
Evan Tanner:
Trainings been going great. I started to get back into it after some time off and now I have been training steadily for almost 8 months. I'm finally starting to feel like I'm back to my old self. It's been a really great camp this time and I was lucky enough to work with some great people.
MMANews.com:
How are you feeling you match up with Kendall Grove?
Evan Tanner:
I think it's going to be a good fight for both of us. It's also very important because the loser will most likely be dropped from the UFC roster. We're both highly motivated and I think that is going to make for a great fight. I don't see this fight going to a decision.
MMANews.com:
What are your thoughts on being in the main event of this card?
Evan Tanner:
It's a great opportunity and it has a lot of exposure. Considering both of our situations I think it is going to make for a great main event.
MMANews.com:
You did mention that both you and Grove could be in a bad position with a loss, how big could a win be in the middleweight picture of the UFC?
Evan Tanner:
I haven't really thought about it yet. I've been concentrating on the fight. I don't want to get side tracked with what could happen, I want to stay focused.
MMANews.com:
Considering you did half quite a long lay off from the UFC, nearly two years, did you feel as though Yushin Okami may have been too strong an opponent to get back in the swing of things with?
Evan Tanner:
People are under the impression that I get to pick and choose my opponents you know? The UFC offers me a fight and I take it. They offered the Okami fight and I took it because I wanted to get back in the UFC and get fighting again. I don't get a list of opponents to pick from. They could have set me up with an opponent who may have been a little easier for me but that's not good for me and Okami was the man so I took it.
MMANews.com:
Who has helped you prepare for this fight?
Evan Tanner:
For this fight I've been working out of the Warrior training center in Las Vegas. I also had a chance to work out with Forrest Griffin and John Wood. I've also had some Muay Thai training in. It's been a great camp.
MMANews.com:
How are you feeling conditioning wise?
Evan Tanner:
I'm feeling in great shape and I'm back to my old self. In the Okami fight I was a little small going and I wasn't coming in with much physical size and I think that played a factor. Right now I have my size back and I'm feeling good.
MMANews.com:
Did you ever happen to get your own school and home set up to train other fighters?
Evan Tanner:
Plans with that kind of fell through. I need to get myself set up financially before I'll be able to do that but that is something that I definitely think will work out later.
MMANews.com:
How did things go with your idea for sponsorship with Team Tanner?
Evan Tanner:
Well you know it worked out OK. It was a good idea and a neat concept. Right now I am directing Team Tanner towards charity and now I'm working with some trusted sponsors and doing it that way.
MMANews.com:
How did getting back and focused on training and fighting in the UFC help you overcome some of your personal demons you had to deal with in the past?
Evan Tanner:
Fighting in the UFC and such never really helped with those issues. In terms of the drinking, which I did a lot of and liked a whole bunch, I was doing that long before fighting [laughs]. The UFC was something that I'd do in between traveling. I'd be traveling for months and they'd call me and offer a fight and I'd train for two months and fight then head back out on the road. Honestly it was a bunch of others things that I had going on and the UFC was something I was doing on the side. Now I'm focused and training 100% and want to see what I can do in the sport. I'm training in a way that is going to show respect to the sport.
MMANews.com:
Being a former champion in the middleweight division, how focused are you at being on top again?
Evan Tanner:
Right now I am going fight by fight but down the road, of course I'd like to get a shot at the title again but I have to earn my way to the top and if I deserve it I'll get my time.
MMANews.com:
What do you like to do on your free time if you are not training?
Evan Tanner:
Well I have made a lot of lifestyle changes. I like to take a cross country motorcycle ride or go up into the mountains. I'm not out partying and clubbing and such anymore and I'm doing more normal stuff like going mountain biking and stuff.
MMANews.com:
What is a day of training like for you?
Evan Tanner:
About an hour and a half of strength and conditioning in the morning, an hour of technique and an hour of sparring in the afternoon and then another hour and a half of Muay Thai work in the evening.
MMANews.com:
Have you focused on anything in particular going into the fight?
Evan Tanner:
Not really, I'm focusing on everything. I've been out of the game for a while so I'm trying to focus on everything. I've had a chance to work with some Brazilian Top Team guys and such.
MMANews.com:
Can you tell the readers how you started out in the MMA game?. I do remember hearing you started you training watch MMA tapes.
Evan Tanner:
When I first started it was in a small town in Texas. I stopped in to watch a local shoot fighting event. I ended up signing up for one so I bought some crazy technique videos to teach myself the basic submission holds and all that. That was my base....well that's still my base actually. I still use a lot of the techniques I learned way back when. I've picked up a lot along the way and have added to it but I have never really spent any significant time with anyone I could call a coach or trainer. I've spent a little time with a lot of different people hear and there though.
MMANews.com:
What would be some advice you could give to up and comers into the sport that may me in that same boat.
Evan Tanner:
Some advice would be that you should not feel limited even if you don't have a school or trainers around. Don't feel you can't start, my first UFC's I was basically fighting off stuff I learned in my Gracie technique video. If you have the desire to get here than you will find a way.
MMANews.com:
What are some strengths and weaknesses you may see yourself having going into the fight?
Evan Tanner:
I think Kendall Grove has a reach advantage, that goes without saying. He also seems comfortable standing up so he may have an advantage there. I'm going to be more powerful and smaller and compact so I think that will come into play.
MMANews.com:
Do you feel your experience could come into play?
Evan Tanner:
I think it will yeah, but it's hard to say how it will come into play. You can't help but have a certain understanding of things. I've been in the Octagon 16 times.
MMANews.com:
Ok Evan, do you have anything you would like to say to your fans out there?
Evan Tanner:
Yeah I'd like to thank all the fans, whether they be my fans or all fans of MMA. It's you guys that make the sport what it is and I appreciate that.
MMANews.com:
Evan, I appreciate you taking the time to speak with me today and look forward to seeing you back in action. Good Luck
Evan Tanner:
Hey, I appreciate it man. Thanks a lot.
DISCUSS THIS NEWS IN THE MMANEWS.COM FORUMS >>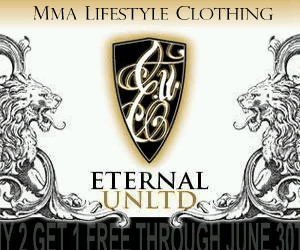 Want to advertise your site in this space? E-mail the website staff today!