Las Vegas, NV (September 8, 2008) — A billboard promoting Affliction "Day of Reckoning", the second mixed-martial-arts event which Affliction Entertainment will put on following the tremendous success of "Affliction Banned", has been unveiled for millions to see in New York City's Times Square and features main event fighters Andrei "The Pitbull" Arlovski (13-5) and his opponent Josh "The Baby Faced Assassin" Barnett (23-5). These stars will meet on October 11th at Thomas and Mack Center in Las Vegas , NV , and distributed live on Pay-Per-View.
Affliction Entertainment, the partnership between Affliction and The Trump Organization, came out swinging for their first ever event "Affliction Banned" in July, which featured some of the top MMA fighters in the world, including Fedor Emelianenko, the recognized undisputed heavyweight champion of the sport. The Oct. 11 card will feature 10 bouts, showcasing Affliction heavyweights Andrei Arlovski vs. former UFC heavyweight champion Josh Barnett. Arlovski and Barnett both participated in "Affliction Banned" held at the Honda Center July 19 in Anaheim, CA. Competing in separate bouts, both fighters registered impressive wins over Ben Rothwell and Pedro Rizzo respectively, and will now face each other in a bout that could possibly set up a future showdown for the winner with Fedor, who in July easy defeated former 2-time UFC heavyweight champion Tim Sylvia in just 36 seconds.
Tickets for Affliction "Day of Reckoning" are available online at www.unlvtickets.com or by calling 702.739.FANS. Ticket prices range from $75 to $500. Arlovski vs. Barnett is available live on cable and satellite pay-per-view and closed circuit television.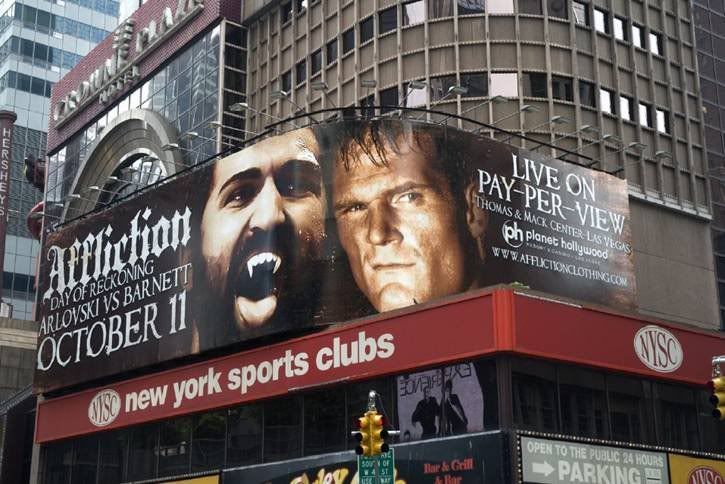 DISCUSS THIS NEWS IN THE MMANEWS.COM FORUMS >>

Want to advertise your site in this space? E-mail the website staff today!