With the boom of MMA over the last few years came the boom in MMA lifestyle clothing. Some companies have really done well in this category such as Affliction and TapouT, while other companies release a line of shirts only to be never seen again. One of the companies that is really making a splash in the industry is Eternal Unlimited.
Over the last few months MMANews.com has had a great partership and relationship with the guys from Eternal Unlimited that has seen us bring our readers some great t-shirt giveaway's, and a weekly installment of MMA technique videos that have featured the likes of EliteXC Welterweight Champion Jake Shields, The Diaz Brothers, Nick and Nate, former Strikeforce lightweight Champ Gilbert Melendez and BJJ Whiz, David Terrell.
Eternal Unlimited now has a new line of clothing out for the fall and holiday season of 2008 and we have been lucky enough to get our hands on some of the line to check out.

As always, and like their first line, Eternal Delivers the goods with high quality fabrics and mint designs. Going above and beyond their previous line though, Eternal really steps it up in the design department offering some new designs that really blow the previous ones away.
Another addition to the new line is a series of Couture Series shirts that offer a lower priced alternative with the same quality and cool designs as that of other companies that have priced their clothes upwards of $80 a t-shirt.
The team has also added two new hoodies as well as hats and a women's line that is sure to please the female fan in your life.
Two prominent factors in terms of clothing design for that we look for when making a purchase are quality of product and quality of design. Eternal Unlimited does it again with top notch MMA Lifestyle clothing that everyone should check out. You can get your's today by clicking HERE.
The new line of gear from Eternal Unlimited is now on sale on their website and you can watch for this new line in extreme sports stores and other large retailers near you very soon.
Here at MMANews.com we give the new line from Eternal Unlimited a 10/10 and as you can see from the pictures here, the designs are awesome, with exhilarating colors on the shirts and if you don't like one set of colors they offer the shirts in various combos that will suit your needs. You are getting bang from your buck from Eternal Unlimited.
Whether it is in the gym, at the bar, or hanging around the house, the clothing from Eternal Unlimited is sure to keep you comfortable and looking good. All Day, Everyday.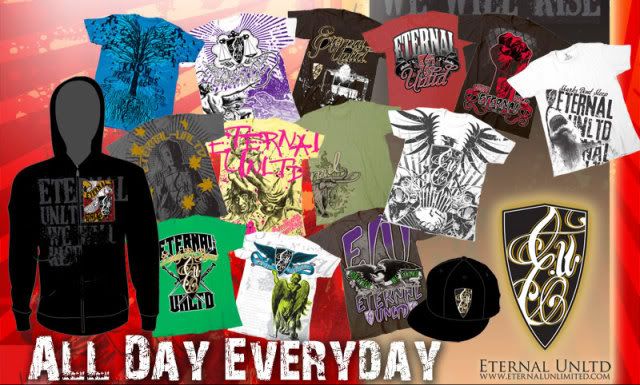 DISCUSS THIS NEWS IN THE MMANEWS.COM FORUMS >>
Want to advertise your site in this space? E-mail the website staff today!