The following are results from last nights ELiteXC: Return of the King from Fiveouncesofpain.com
K.J. Noons def. Yves Edwards via TKO at :48 of round one
Nick Diaz def. Muhsin Corbbrey via TKO at 3:59 of round three
Murilo Rua def. Tony Bonello via TKO at 3:16 of round one
Dave Herman def. Ron Waterman via TKO at 2:19 of round one
Rafael Feijao def. Wayne Cole via TKO at 2:47 of round one
Undercard:
P.J. Dean and Dean Lista fought to a majority draw
Mike Aina def. Kaleo Kwan via unanimous decision
Mark Oshiro def. Chris Willems via submission (triangle choke) at 2:12 of round one
Lolohea Mahe was scheduled to fight Chris Bernard in a heavyweight matchup but apparently Bernard pulled out of the fight 30 minutes beforehand with a "sickness." Lolohea looked extremely disappointed.
Bubba McDaniel def. Kala Kolohe via submission (rear naked choke) at :41 of round one.
DISCUSS THIS NEWS IN THE MMANEWS.COM FORUMS >>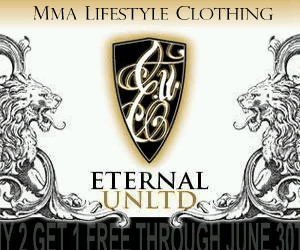 Want to advertise your site in this space? E-mail the website staff today!