From Sherdog.com
Randy Couture and Fedor Emelianenko , along with their respective management teams, met in Los Angeles on Monday, according to a source familiar with both mixed martial arts legends. The source declined to reveal what was discussed between the two sides.
Couture, Emelianenko, and their representatives spent "significant" time together, as they met for breakfast and dinner, the source said. They were also involved in a photo shoot together, reports the source. While speculation around a future fight promoted by Affliction seems certain to swirl, the source indicated the upstart promotion was not behind the aforementioned shoot.
Couture's representatives declined to comment on the matter, while Emelianenko's handlers could not be immediately reached.
MMANews.com has also tried to contact Emelianenko's people in the US and was unable to get a response as to what the scoop was on why these two heavyweights that are destined to lock horns at some point were chilling in Los Angeles.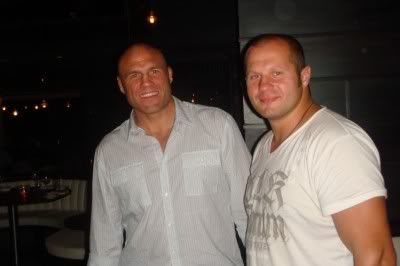 DISCUSS THIS NEWS IN THE MMANEWS.COM FORUMS >>
Want to advertise your site in this space? E-mail the website staff today!