CREDIT: MMAWEEKLY.com
MMAWeekly.com obtained the fight bonuses, which were $60,000 each, for Fight of the Night, Submission of the Night and Knockout of the Night.
Not much of a surprise for the winners of Fight of the Night as Forrest Griffin defeated Quinton "Rampage" Jackson to become the new UFC light heavyweight champion, placing himself atop the 205-pound weight class. Griffin gutted out a tough first round only to come back and attack Jackson at every turn en route to a unanimous decision win.
Submission of the Night went to Cole Miller, who struggled at points with opponent Jorge Gurgel, but kept working for a finish and ended up catching the Brazilian Jiu-Jitsu specialist in a triangle choke. The American Top Team youngster picked up an impressive win over Gurgel and the bonus for his top rated submission.
The knockout of the night seemed like a no brainer as former "Ultimate Fighter" season 2 cast member Melvin Guillard returned to the UFC in triumphant fashion finishing European fighter Dennis Siver with punches in the first round of their match-up.
Guillard caught Siver with the opening exchange of the fight and while his opponent tried to recover, the "Young Assassin" kept coming and finished him off in under one minute.
UFC 86 Fight of the Night: Quinton Jackson vs. Forrest Griffin
UFC 86 Knockout of the Night: Melvin Guillard
UFC 86 Submission of the Night: Cole Miller
DISCUSS THIS NEWS IN THE MMANEWS.COM FORUMS >>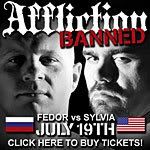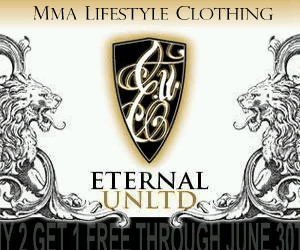 Want to advertise your site in this space? E-mail the website staff today!