CREDIT: SHERDOG.COM
Patrick Cote vs. Ricardo Almeida
Round 1
Almeida clinches and attempts to pull guard with a guillotine. Cote escapes but finds himself in the Brazilian's guard. The fighters stand and Cote stuffs an Almeida shot. Almeida ties up with the Canadian against the fence. He drops levels to look for a single-leg but Cote is game. Almeida switches to a double and it's successful. From half-guard, Almeida tries to pass. Cote shows good legwork in stopping Almeida from advancing. Almeida stands up in Cote's guard and lands three lefts to the head. He sits back in Cote's guard but doesn't stay long. He stands over his opponent and clearly takes the round with serviceable ground-and-pound.
Round 2
A long break period between rounds unfolds to repair a torn glove on Almeida. The Brazilian is stuffed on a takedown but he manages to pull guard. Cote escapes high hip movement from Almeida to stand. Little action follows as Cote stays patient, careful not to be taken down. Almeida gets an under-hook but he is unable to trip his opponent to the floor. Almeida tries to pull guard but is unsuccessful. The crowd showers the Octagon with boos as the action slows to a crawl. Almeida again tries to pull guard with a guillotine. Cote belts Almeida with a right hand just before the horn sounds.
Round 3
Cote comes out boxing with a jab and footwork. A fatigued-looking Almeida does little in return as he is hit with a right hand and a low kick. Almeida lands his best combination of the fight, a one two straight down the pipe. With 35 seconds remaining, Almeida scores a much-needed takedown. He moves to side-control and attempts a choke but time expires.
The official judges score the bout 29-28 (Cote), 29-28 Almeida and 29-28 for the winner by split-decision, Patrick Cote.
DISCUSS THIS NEWS IN THE MMANEWS.COM FORUMS >>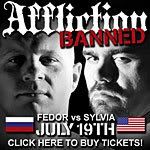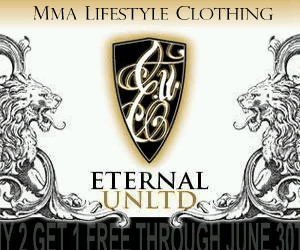 Want to advertise your site in this space? E-mail the website staff today!