Las Vegas, NV (USA) -UFC is coming to Philadelphia for the first time on Saturday, August 8th, and its bringing the big guns to the Wachovia Center for UFC 101, as BJ Penn defends his UFC lightweight crown for the second time against number one contender Kenny Florian, and UFC middleweight boss Anderson Silva jumps back to the 205-pound weight class to take on former light heavyweight champion Forrest Griffin.
"BJ Penn is called the Prodigy for a reason. He has proven to be dangerous in multiple weight classes but he is definitely at his best at 155," said Dana White, UFC President. "Now the lightweight champ defends his title against top contender Kenny Florian, who has improved by leaps and bounds since his UFC debut on the Ultimate Fighter. Originally known for his outstanding jiu-jitsu skills, Florian is now as well known for his devastating Muay Thai. Both of these guys excel standing and on the ground so I am expecting non-stop action in this world title fight."
"We are excited to finally be able to host a UFC event in Philadelphia," said Comcast-Spectacor President Peter Luukko. "With a world-wide audience watching on pay-per-view, the Wachovia Center will once again be in the national spotlight. This is a terrific opportunity for the facility, our company and most importantly UFC fans in the Greater Philadelphia Region."
Tickets for UFC 101 will go on sale Saturday, May 23 at 10am ET and will be priced at $600, $400, $300, $200, $100 and $50. Tickets are available via www.ComcastTIX.com, UFC.com, by phone at 1-800-298-4200, the Wachovia Center Box Office, or select ACME markets.
UFC Fight Club members will have the opportunity to purchase tickets to this event Thursday, May 21 starting at 10 a.m. ET via UFC.com. A special Internet ticket pre-sale will be available to UFC newsletter subscribers and the Wachovia Center Cyber Club on Friday, May 22 starting at 10 a.m. ET. To access this presale, users must register for the UFC newsletter through UFC.com or the Wachovia Center Cyber Club at WachoviaCenter.com.
The pride of Hilo, Hawaii, UFC Lightweight Champion BJ Penn (13-5-1) is on practically everyone's short list of best fighters in the world pound for pound, and on August 8th, he will be returning to the division he is the undisputed king of. Unbeaten at 155 pounds since 2002, Penn has taken out Jens Pulver, Joe Stevenson, and Sean Sherk in successive lightweight fights, and after suffering a setback in his challenge for Georges St-Pierre's welterweight crown in January, Penn is eager to get back to his optimum weight to continue his reign of terror.
In just six years as a pro, Kenny "KenFlo" Florian (13-3) has done nearly everything in the sport of mixed martial arts, as he's fought in the middleweight, welterweight, and lightweight divisions, earned a spot in the finals on the first season of The Ultimate Fighter, and beat some of the best fighters in the world in the process. The only thing missing for the 32-year old from Boston is a world championship, and after winning six in a row (including victories over Joe Lauzon, Joe Stevenson, and Roger Huerta), Florian is peaking at the right time for his second shot at the belt.
Currently sporting the longest consecutive win streak in UFC history at nine, UFC Middleweight Champion Anderson Silva (24-4) has also tied the organization record for most consecutive successful title defenses at five, beating the likes of Dan Henderson, Rich Franklin, Patrick Cote, and Thales Leites along the way. But the 34-year old native of Curitiba, Brazil is not satisfied yet, so he is tackling the light heavyweight division once again on August 8th, and if his first 205-pound bout — a 61 second knockout of James Irvin last July — is any indication, the big boys had better watch out for this lethal "Spider".
The winner of the first season of The Ultimate Fighter and a man credited by many as one of the reasons for the explosion of MMA in the United States following that TUF finale bout in 2005, Forrest Griffin (16-5) isn't a fighter who will take credit for such achievements — he just wants to fight, and with UFC wins over Quinton "Rampage" Jackson and Mauricio "Shogun" Rua under his belt, the former UFC Light Heavyweight Champion has more than proved himself in the Octagon. On August 8th, the 30-year old Griffin looks to fight his way back into the title picture after his loss to Rashad Evans last December, and there's no better way for him to do that than by handing Anderson Silva his first UFC loss.
"Anderson Silva is the pound for pound best fighter in the world. He's so good that he demands a serious challenge, someone who can push the pace and make him fight," said White. "To me, nobody fits the bill more than former UFC Light Heavyweight champion Forrest Griffin. Anderson is tremendously skilled but he's going up a weight class and Forrest is a huge light heavyweight – this is going to be a war."
DISCUSS THIS NEWS IN THE MMANEWS.COM FORUMS >>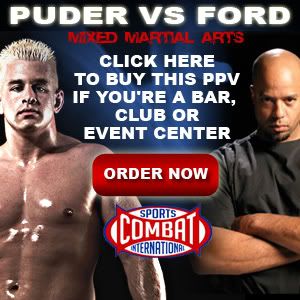 Want to advertise your site in this space? E-mail the website staff today!