ROF promoter Sven BOOGIE Bean is happy to announce the promotion's next installment RING OF FIRE 32: RESPECT !!.
The 12 bout MMA event will take place on Friday, June13th, 2008 at the Broomfield Event Center in Broomfield, Colorado.
"Some fighters fight for Honor, and some fight for Glory.. but every fighter fights for RESPECT! "
FEATURE BOUT:
RING OF FIRE has always been a place where a fighter can come to build a reputation, or also to help rebuild a career. That scenario couldn't be more on point in the case of the Caudillo-Taylor match.
Luke "Lil Hulk" Caudillo is a familiar name with ROF fans. The scrappy 155 pounder is known for his one punch KO power and brutal ground and pound. His battles with Vern Baca, James Martinez, and Dennis Davis have been some of the best matches in the promotion's history. It was those very same performances that led to a call from UFC matchmaker Joe Silva requesting Caudillo's services. However, there are no easy fights on the big stage. While putting up his typical gritty efforts, Caudillo went 0-2 in the UFC against Nate Mohr and Marcus Aurelio. Caudillo is now on a mission to get back in line for the call. He has spent the past seven months honing his skills with Duane BANG Ludwig, along with the very best training partners in the Denver area.
Cleaveland, Ohio fighter Torrance Taylor is hoping third time's a charm for his carreer. Having already beaten two UFC vets, he is counting on a win over Caudillo at Ring Of Fire as his way to the big show. In 2007 Taylor beat UFC veteran Jason Dent, and was named the professional fighter of the year. Just two weeks ago Taylor edged out UFC vet Junior Assuncao at the AFL event in Atlanta. The athletic striker feels he is on a roll, and now is the time for "The Tyrant".
Torrance Taylor:
"I know that Luke trains with a great team and will be well prepared. I believe in my abilities, and feel like I can beat him at his own game. If I didn't I wouldn't have taken this fight. I know that a good showing at Ring Of Fire can make a fighter's career. I'm not coming to Denver just to fight, I'm coming to take that next step. I'm sure Luke will be tough, but he is in my way. I am not looking for the KO, if it comes it comes. But with the way I fight, chances are pretty good it will happen!"
Luke Caudillo:
"I have seen some video on Taylor and I know he can throw down. That's great. That's just what I want. Stand in front of me and trade. I have that Latino pride and toughness, and I won't back down. Even though I am originally from Nebraska, now I live in Denver. I feel like RING OF FIRE is home. A lot of great fighters have come through the ranks here. I am proud to be one of them. This guy isn't coming into my house. I'm going to send him home, and add another win to my record. My training has gone to another level and I'm ready to show the MMA world that I belong with the best!"
WORLD CLASS ARENA
the $45 million Broomfield Event Center is a state-of- the-art 180,000 square foot multi-purpose event center and includes 25 suites, 900 club seats, up to 8,000 total seats, a sit-down restaurant, three themed bars and a separate basketball practice facility. It is the home of the CHL 's Rocky Mountain Rage Professional Hockey Club and the Colorado 14ers Professional Basketball Club of the NBA Development League.
TICKETS AVAILABLE NOW!!
HOW TO PURCHASE TICKETS:-
Available online at www.TICKETMASTER.com
charge by phone at 303-830-TIXS
visit the Broomfield Event Center box office
Visit any Ticketmaster outlet including select Macy's stores, Select F-Y-E Stores, Cherry Creek Shopping Center visitors desk, Angelo's CDs, and Twist and Shout.
Tickets are priced at $25.00, $35.00, and $45.00
All tickets subject to facility fee, tax and parking (totals $8.50). Online purchases may be subject to an additional fee.
SPECIAL VIP TABLE PACKAGES! Call (303) 521-0966 for details.
DISCUSS THIS NEWS IN THE MMANEWS.COM FORUMS >>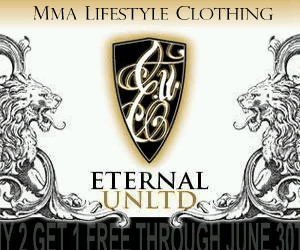 Want to advertise your site in this space? E-mail the website staff today!