WAMMA and Affliction announce WAMMA's inaugural WAMMA Undisputed World Heavyweight Championship Title Fight between #1 WAMMA Ranked fighter Russian combat fighting icon Fedor "The Last Emperor" Emelianenko in association with M-1 and # 4 WAMMA Ranked American fighting legend Tim "the Maine-iac" Sylvia at the "Affliction Banned" Event on July 19th 2008 at Honda Center in Anaheim, California.
The announcement came when WAMMA Chief Executive Officer Dave Sazdy and WAMMA Chief Operating Officer Michael Lynch were interviewed live on HDNet Fights from the Adrenaline MMA show on June 14 by HDNet Fight's Ron Kruk. The 2500 plus fans in attendance roared with approval at the announcement that the WAMMA Undisputed World heavyweight Championship will be on the line.
"The July 19 Affliction: Banned fight card is undeniably the greatest single event card in the history of MMA," said WAMMA Chief Operating Officer Michael Lynch. "WAMMA is proud to be associated with this great night of fights. The show is truly a historic event when the sport of MMA crowns the first undisputed champion. It is truly a night of fights not to be missed"
"Affliction Banned" will be distributed on Pay-Per-View and air live (9 PM/ET, 6 PM/PT) on cable and satellite viewing in the USA and Canada via iN DEMAND, TVN, Shaw Communications, Viewer's Choice Canada, DirecTV, DISH Network, Bell ExpressVue and Star Choice for a suggested retail price of $39.95. The telecast will be available in both standard and high definition television.
Tickets for "Affliction Banned," ranging between $50.00 and $1,000.00, are on sale at Honda Center box office and also online at Ticketmaster.com.
WAMMA is a multifaceted fighter and fan forward organization dedicated to leading the sport of Mixed Martial Arts (MMA) to unprecedented levels of integrity, legitimacy and prosperity. With the help of forward-looking MMA promotions, WAMMA has created an environment where fighters from all organizations have the opportunity to openly compete to be the one true, undisputed champion in their respective weight classes based on WAMMA's objective MMA Rankings. WAMMA's newly created Fighter Advisory Board, co-chaired by MMA legend Randy "The Natural" Couture and world renowned trainer and five-time UFC champion Pat Miletich, will offer a unique resource for fighters.
DISCUSS THIS NEWS IN THE MMANEWS.COM FORUMS >>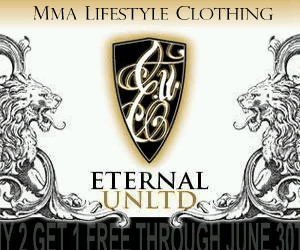 Want to advertise your site in this space? E-mail the website staff today!