The following are the official weigh in results for tomorrow nights Ultimate Fighter 7 Finale that will take place live on SpikeTV:
Kendall Grove (186) vs. Evan Tanner (186)
C.B. Dollaway (185) vs. Amir Sadollah (185)
Luigi Fioravanti (171) vs. Diego Sanchez (170)
Spencer Fisher (156) vs. Jeremy Stephens (155)
Matthew Riddle (185) vs. Dante Rivera (185)
PRELIMS
Josh Burkman (170) vs. Dustin Hazelett (170)
Marvin Eastman (186) vs. Drew McFedries (185)
Matt Arroyo (170) vs. Matt Brown (170)
Jeremy Horn (186) vs. Dean Lister (185)
Tim Credeur (185) vs. Cale Yarbrough (186)
Rob Kimmons (185) vs. Rob Yundt (185)
DISCUSS THIS NEWS IN THE MMANEWS.COM FORUMS >>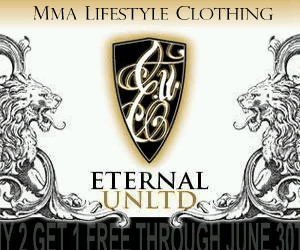 Want to advertise your site in this space? E-mail the website staff today!