Kenny Florian sent along the following information on tomorrow nights WCF:
World Championship Fighting (WCF) has a great fight card in Wilmington, MA this Friday night. In one of the night's featured fights, UFC veteran Dan "The Upgrade" Lauzon returns to the ring riding a five fight win streak and having stopped his last four opponents in the first round. In another featured fight is a match-up of two local Mixed Martial Arts (MMA) superstars in Mike Campbell and Rich Moskowitz. Campbell is an undefeated fighter and one of the area's most promising talents ending his last two fights in knock out while Moskowitz has made his name by fighting some of the area's toughest fighters and winning most of his fights in dominating fashion. Also on the card are local fighters including Jamie Campbell, Dan Bonnell, John Benoit and many more.
The June 20th show will be the third event for World Championship Fighting in Wilmington, with the last event having drawn a sellout crowd of 3,700 Mixed Martial Arts fans. Catch the action live June 20th, 2008 at the Aleppo Shriners Auditorium in Wilmington, MA just 13 miles north of Boston off of I-93.
Tickets on Sale Click Here. Or charge by phone at: 1-800-595-4849 Toll Free.
WHERE: Aleppo Shriners Auditorium, 99 Fordham Road, Wilmington, MA 01887
WHEN: Friday, June 20, 2008. Doors open at 6:30P.M. First Fight at 7:30P.M.
More Information
Special Guests expected in Attendance:
UFC Fighters: Marcus "The Irish Handgrenade" Davis; Kenny "KenFlo" Florian; Joe "J-Lau" Lauzon; Sean "The Gladiator" Gannon; Jorge "El Conquistador" Rivera; Muay Thai Coach Mark DellaGrotte "The Ultimate Fighter 4"; Boxing Coach Peter Welch "The Ultimate Fighter 2."
Ticket Prices: $40, $45, $65, $100, $250
DISCUSS THIS NEWS IN THE MMANEWS.COM FORUMS >>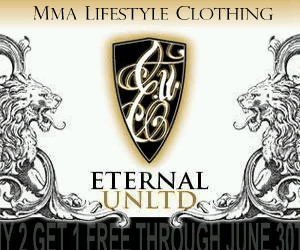 Want to advertise your site in this space? E-mail the website staff today!