TapouT sent along the following:
Grand Terrace, CA (July 28, 2008) — TapouT, the premier mixed martial arts apparel, gear and lifestyle brand, announced today that the company will sponsor MMA superstar Kimbo Slice and create a joint apparel line under the TapouT brand. TapouT will be Kimbo's exclusive apparel sponsor.
"Kimbo is the real deal," said Mask, TapouT Founder. "He is the ultimate underdog who kept his nose to the grindstone and rose up to become one of the most well-known MMA fighters out there. Kimbo is tough, but full of heart, and we're excited to take him from the cage to the clothing."
"I want to thank the whole TapouT FAM for taking an interest in me and team Kimbo," said Kimbo Slice. Also thank you guys for allowing us to be a part of your FAM…and the tightest gear out there. Hey man, my team is psyched, team Kimbo is psyched."
Further details on the Kimbo/TapouT apparel line will be announced in the coming months.
About TapouT
An independently operated and owned mixed martial arts lifestyle company, TapouT boasts a sought-after apparel line for MMA enthusiasts, sponsors the best MMA Fighters (Chuck Liddell, Anderson Silva, etc.) and stars in a hit TV reality show "TapouT," which kicks off season two on July 30 at 10:00 p.m. ET/PT on VERSUS (and launched July 24 on VERSUS ON DEMAND). TapouT is also the exclusive apparel sponsor for Spike TV's "The Ultimate Fighter" through 2011.
TapouT's passion for the sport has turned into a full-on underground culture, as the TapouT crew, Mask, Punkass and Skyskrape, extend the growing popularity of MMA through their presence at the most extreme events, supporting fighters and offering the hottest, edgiest apparel for men and women. Their distinctive logo graces everything from hats, tees and car windows, to their special limited edition 2007 Toyota Tundra TapouT truck. The TapouT logo has become so noteworthy that its most devoted fans are tattooing it on their bodies, demonstrating the ultimate in commitment.
DISCUSS THIS NEWS IN THE MMANEWS.COM FORUMS >>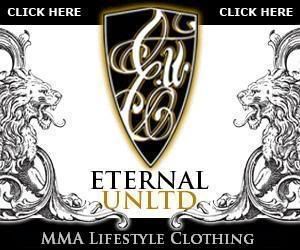 Want to advertise your site in this space? E-mail the website staff today!