MMANews.com and Eternal Unlimited are parterning up again to bring you, the readers of MMANews.com a weekly installment of MMA technique courtesy of the Eternal crew that includes Nick and Nate Diaz, EliteXC Welterweight Champion Jake Shields, David Terrell, and former Strikeforce Lightweight Champion Gilbert Melendez.
Eternal Unlimited has some of the biggest and best names in the MMA world under their banner and with that, will provide a new tip every week for everyone to watch in high resolution video. You can access the eleveth technique of the week by clicking HERE.
The eleventh tip of the week in the collection comes from Jake Shields. This week Jake takes us through the Triangle Armbar from the "Knee on Belly" position. When you get to the sidemount position and have the opportunity to get to the Knee on Belly position, it puts you in a spot where you have a lot of submissions to go to, and it is a great position for striking. Jake goes over some great details to make sure you have this move perfected, so pay attention to the details! Enjoy…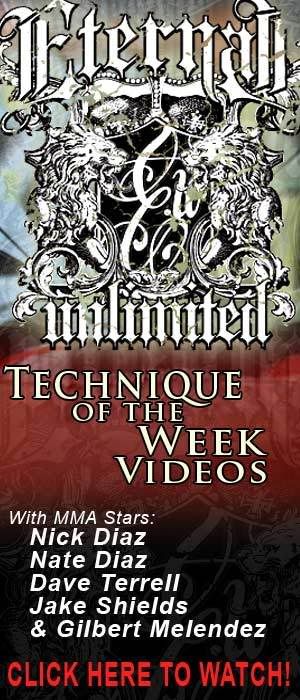 DISCUSS THIS NEWS IN THE MMANEWS.COM FORUMS >>
Want to advertise your site in this space? E-mail the website staff today!