MMANews.com and Eternal Unlimited are parterning up again to bring you, the readers of MMANews.com a weekly installment of MMA technique courtesy of the Eternal crew that includes Nick and Nate Diaz, Top ranked welterweight Jake Shields, David Terrell, and former Strikeforce Lightweight Champion Gilbert Melendez.
Eternal Unlimited has some of the biggest and best names in the MMA world under their banner and with that, will provide a new tip every week for everyone to watch in high resolution video. You can access the sixteenth technique of the week by clicking HERE.
The sixteenth tip of the week in the collection comes Nate Diaz. This week Nate takes us through a triangle from the mount position. This is a great move to use when some one tries to buck you from mount using their hands to push on your hips. Check it out!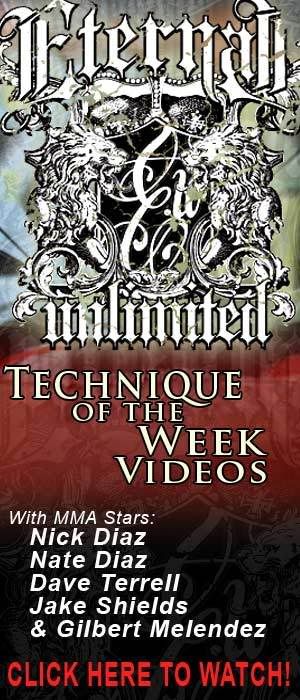 DISCUSS THIS NEWS IN THE MMANEWS.COM FORUMS >>
Want to advertise your site in this space? E-mail the website staff today!