By Chris Howie
November 7, 2008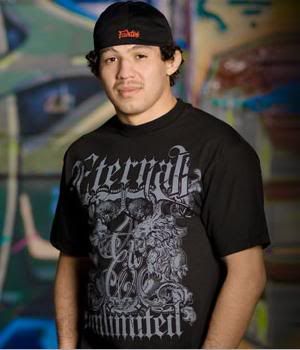 At 26 years old, Gilbert Melendez finds himself holding a 14-2 record and is also the former Strikeforce Lightweight Champion. He started his career off with a 13-0 win streak before losing to Mitsuhiro Ishida and then going 1-1 since that loss, losing the title to Josh Thomson in June.
Now looking to get back on one of those long winning streaks, Melendez has been making the changes in his training that he feels will bring him to the next level by opening his own training center.
With one fight left on his Strikeforce contract, "El Nino" knows that a win is a must and looking good in the outing could make or break contract negotiations when it time when the Strikeforce deal runs out.
In this new MMANews.com exclusive interview with Chris Howie, Melendez talks about what could be next for him, his new gym, who he'd like to fight and much much more.
Chris Howie with MMANews.com: So you have the new gym opening up, what are the details on that endeavor?
Gilbert Melendez: You know it's more than a gym, I created my own training center so I could make my training the best possible. I want to built students and coach them but this isn't being done to make a money making machine. The whole goal is to bring a lot of fighters in here and have a better training environment and make sure I have more structure to my training.
MMANews.com: So instead of traveling around you are putting it all in one spot?
Gilbert Melendez: Yeah I've kind of jumped around a little bit and gone a long way without any structure to my training but it's time to add a little more discipline to my training and I can do that all here.
MMANews.com: Are you taking students on at this time?
Gilbert Melendez: Yeah I'm taking students and fighters on. I'm looking for people that are looking for a challenge. Right now it is a little more for me but I will have all that eventually. It's going to be a great place.
MMANews.com: Are you open now or still waiting for the grand opening?
Gilbert Melendez: Later in November I will be more open to the public.
MMANews.com: What's next in your fighting career?
Gilbert Melendez: To keep it going man. I didn't make this gym to relax and make money. I did it for my training and to get better training. I have one more fight left with Strikeforce and after that fight I am going to weigh my options from there. My goal is to look amazing in my next fight because I have no choice to look amazing. I am going to take my time. I believe I will be fighting in January with Strikeforce and then after that I'll see where I am at.
MMANews.com: Any idea on opponents at this time?
Gilbert Melendez: Nothing set it stone at this point. Strikeforce did sign Mitsohiro Ishida and I have been asking for that and trying to get that one back but I'm not sure it's going to be that easy. Whether I get the opponent I want is hard to say but I would love to fight Ishida or even Josh Thomson. We'll see what they want to do.
MMANews.com: You started your career off 13-0 and have now gone 1-2 in your last three fights, how do the losses effect you mentally after starting off your career on such a streak?
Gilbert Melendez: Mentally I'm fine man. I'm alright. I feel like I just let myself down a little bit and the people around me. I may have slacked off a bit on my training for those fights and that's why I am where I am at today. They do affect me mentally though because I love my job. Mentally I've matured from these losses to though. In the long run it's helped me.
MMANews.com: A lot of fighters that start off their careers on fire tend to say the same after a loss on their record…
Gilbert Melendez: Yeah I'm in that boat right now. I think I'm bettering myself for my next fight. I think I've come a long way in a short period of time. The sport is now getting to a new level so it's time to go onto that next level. I'm structuring everything differently for training and my diet and I'm trying to maximize my body's potential. I'm ready to take this serious for the next couple of years. I feel I have another good three or four years in me where I can be the number lightweight in the world. I'm ready to give it all I have and sacrifice everything.
MMANews.com: What are your thoughts on the Japanese fighters making their way to the USA with Strikeforce signing the likes of Ishida and Kazuo Misaki?
Gilbert Melendez: I think it's awesome. The momentum has shifted to the US now. I'm happy I did my Japan thing but now I am a little bit over it. We're going to have world level competition. It's great that no one is hiding from the great fighters around the world because now we can show that the US has the best fighters in the world and not just North America. I'm really excited about that.
MMANews.com: What's it like traveling to Japan for a fighter with jet lag and things like that coming into play?
Gilbert Melendez: I guess it effects you a little bit. It's a good way to justify a loss or a bad performance [laughs], but it does affect you. If I train hard and I feel great than a plane ride or some nasty food won't affect my performance if I feel good about my training…
MMANews.com: It's probably a bigger help when you can stay in the US and have the fans behind you.
Gilbert Melendez: Oh it's a little bit more motivating when you come out and people actually cheer for you, especially when you can fight in your own back yard. It's nice to be able to train and not worry about the travel but if you got to do it you got to do it.
MMANews.com: What are your thoughts on the crowd differences between the American and Japanese crowds?
Gilbert Melendez: Well, the Japanese crowds are very educated and respectful but I like to get pumped up during a fight. If I get boo'd or cheered during a fight it really motivates me. In Japan it's more quiet and mellow.
MMANews.com: One Japanese fighter that you never had a chance to get in the ring with during your days with Pride was Takanori Gomi, will he ever fight again in the US?
Gilbert Melendez: Wow, I don't know man, I don't think he will. I think he is taken care of nicely in Japan and maybe he has reached all the goals he wants to in the sport. He's not ranked very high anymore in my book or a lot of books for that matter. He was the best for a while though and proved it. He's kind of picking opponents in Sengoku and getting in some good bouts and smiling but right now it seems like he is kind of cruising.
MMANews.com: Do you feel Gomi has lost a lot of stock since the fall of Pride?
Gilbert Melendez: I think it has a lot to do with him. He could have gone to DREAM or the UFC but he decided to go with Sengoku because I'm sure they are paying him a lot more money than the other guys would have. Maybe his motivation went down but if he is willing to step it back up I think he would still be a top fighter and anyone would jump on him.
MMANews.com: Earlier this year DREAM held their Lightweight Grand Prix, were there any talks of you fighting in that tournament?
Gilbert Melendez: Yeah there was. I had my contract with Strikeforce though and I didn't want to jump into another commitment with one already at home. My goal right now is get done with this Strikeforce contract and take it from there and see where I go.
MMANews.com: One company that likely won't be trying to get your services will be EliteXC, what were your thoughts on them closing up shop?
Gilbert Melendez: You feel like they kind of did some stupid stuff. They messed up. They had a good thing going for MMA and they approached it all wrong. Not only does it hurt EliteXC but it also hurts a lot of fighters as well. The pay was going up and there was a lot more exposure for fighters and now it's back to the UFC being number one again with no real competition. I don't see the UFC pay going up any. I love the UFC but it's sad to see Elite go under.
The play out of the main event on the last card probably scared away CBS and Showtime. Guys pulling out and main event guys getting knocked out in 14 seconds probably didn't help any either.
MMANews.com: BJ Penn is considered the best lightweight in the world on most rankings out there, how do you see yourself matching up with someone like BJ?
Gilbert Melendez: I believe he is the best lightweight in the world right now and I've thought that for a long time. Maybe everyone would say this but I feel I'm a great match up for BJ. I won't back up and I'll meet him in the middle. I don't think he could submit me and I'd push the pace. On a good day and if I come prepared I'd love to fight BJ Penn. Plus, you have everything to gain fighting a guy like BJ Penn.
MMANews.com: Weight wise, do you see yourself sticking at 155lbs or could you move up to 170lbs or down to 145lbs?
Gilbert Melendez: For a long time I was the number one 145lber in the world but that division was going no where so that's why I went to 155lbs. I started moving up the rankings and I want to be number one and now I plan on regrouping and if I get to the number one spot maybe I'd move but who knows. Right now I want to get to number one.
MMANews.com: I heard from the guys at Eternal Unlimited that you had picked up surfing, what's the story there?
Gilbert Melendez: Yeah man. I picked that up. One of my buddy's gives surfing lessons and has rentals during the summer so he hooked me up. It's a great work out and something I try to fit in. I go out and rest up some injuries and jump in the ice cold water in San Francisco and catch some waves. I've been getting out a couple times a week and it's a great feeling being out there.
MMANews.com: Nice, any message you'd like to send out to your fans?
Gilbert Melendez: Don't lose faith, I'm coming back stronger than ever. Big things are headed my way so keep your eyes open.
MMANews.com: Any sponsors you'd like to mention?
Gilbert Melendez: Of course man, I'd like to thank Eternal Unlimited, Fairtex, Serious Pimp and all the people that help me out.
MMANews.com: Alright Gilbert thanks for speaking with me today and I'm looking forward to seeing you back in action.
Gilbert Melendez: Right on Chris, Thanks a lot.
DISCUSS THIS NEWS IN THE MMANEWS.COM FORUMS >>
Want to advertise your site in this space? E-mail the website staff today!