Undefeated in his Mixed Martial Arts career and hardly challenged since entering the UFC Octagon for the first time at UFC 77 in October of 2006, Demian Maia will look to keep the streak alive and stake his claim for a shot at UFC Middleweight Champion Anderson Silva when he takes on Chael Sonnen this weekend in London England at UFC 95.
After picking up submission victories over Ryan Jensen, Ed Herman, Jason MacDonald and most recently, Nate Quarry, Maia will look to keep the submission streak alive against Sonnen. Like in three of his four UFC bouts to date, he hopes to pick up submission of the night honors along with the victory.
Thanks to the guys at Eternal Unlimited, MMANews.com was able to chat with Maia to discuss quite a few topics prior to the UFC 95 bout. You can check out the complete transcription of that interview below.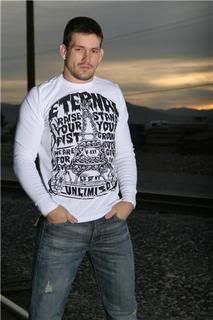 Chris Howie For MMANews.com: How are you feeling going into this fight with Chael Sonnen?
Demian Maia: I'm feeling pretty well. I think that is it for me, a fight that could take me one step closer to the title. He's a tough opponent and everyone respects him so I feel this is the perfect fight for me right now. He has a good name and he beat the WEC Champion so he is a great tough opponent.
MMANews.com: How has training gone for the fight?
Demian Maia: Oh it has gone very well. I was training hard in Brazil with my guys there and I came in to Vegas to do the final preparation for the fight. My strength and conditioning coach has been with me and he has been helping me out a lot. I've been training at Wanderlei's (Silva) academy and he has been helping me a lot as well like always.
MMANews.com: Who else do you train with from day to day?
Demian Maia: Well, the guys in Brazil I train with are likely not well known here, although they are in Brazil, but here I train with Wanderlei, Robert Drysdale, and others that are very good.
MMANews.com: What are your thoughts on Wanderlei moving down to the 185lb division?
Demian Maia: I think he will do well if he wants to move. He can do well in all divisions out there whether it is mine or any other division. I think him wanting this experience is nice and I think he will do well.
MMANews.com: How helpful has it been for you training with someone as legendary as Wanderlei?
Demian Maia: It's just amazing and very important for me because he gives me confidence. He really wants to teach me and show his experience and little details that we need to know inside a fight. He is really helping me. He is not worried about himself at all and he is just worried about helping me and making me better.
MMANews.com: There have been rumors that the winner of this fight could be in line for a shot at the champion, Anderson Silva. Do you feel with a win you deserve a shot?
Demian Maia: I think that if I win this one I deserve a shot because this will be five fights in a row and the first four were by submission. I hope this one ends the same way as well. It's like if a guy wins a ton of fights by knock out people want to see him against the champion but I win all my fights by submission and I think that makes a good point. I think with a win I could fight for the title.
MMANews.com: What was your driving force to get involved in MMA? What helped you make the leap to the sport?
Demian Maia: I wanted to fight MMA after I seen my first fight in Brazil when I was like 14 years old. Then it was a challenge between styles and I wanted to do that. It wasn't professional then it was more like an open challenge. I had a good career in Jiu-Jitsu but I have always wanted to be a champion in MMA.
MMANews.com: Who inspired you get into the sport of MMA?
Demian Maia: Rickson Gracie was a very strong inspiration for me. Also, those Brazilian guys like Wanderlei and the Nogueiras that were fighting in Pride were also a big inspiration.
MMANews.com: The legendary Helio Gracie recently passed away, how much of an impact was his death on the people of Brazil?
Demian Maia: You know, I compare it do when the great scientist Albert Einstein died and the blow it would be to the science world. Him and his brothers and family brought BJJ to Brazil as well as the challenges. The most important guy living for BJJ and MMA was Helio Gracie. The UFC started because of a man like Helio Gracie. He started all this seventy years ago. It's like Mozart dying for music.
MMANews.com: Who do you feel has been your toughest opponent since coming into the UFC?
Demian Maia: I would have to say Jason MacDonald has been the toughest for sure.
MMANews.com: Now you are fighting Chael Sonnen at UFC 95 but you had asked for a fight with Michael Bisping after your last fight. Did that fight ever got talked about?
Demian Maia: You see the thing is, I wanted to go to The Ultimate Fighter and be a coach. I helped Frank Mir coach on the last season but I wanted to go and be the main coach. Michael Bisping was one of the guys that were supposed to be a coach and I wanted to be the other guy. Someone else is going to be it doing it now but if I had been given the chance I would have loved the opportunity.
MMANews.com: I guess when you look at it, the fight with Sonnen could be a quicker path to a shot at Anderson Silva…
Demian Maia: Yeah maybe, I don't know. Right now I am focused on Chael and that is what I am thinking about now.
MMANews.com: How are you feeling you match up with him?
Demian Maia: He's a tough fighter. He's a more technical fighter. A lot of the other people I've fought have been athletic and came to fight but Chael is not going to expose himself and I don't think he is going to be that aggressive so it will be different than others.
MMANews.com: Having such a great BJJ background, what sort of differences are there for straight BJJ as opposed to BJJ for MMA?
Demian Maia: If you have good BJJ than you have a good chance to win a fight. BJJ in competition is important for me to. I've had maybe 200 fights in jiu-jitsu so coming to MMA wasn't that hard for me because I've had so many fights prior to fighting MMA. BJJ competition is a very good experience.
MMANews.com: Would you consider entering the ADCC again or are you focused on MMA at this time?
Demian Maia: I really want to fight ADCC again but I don't know. MMA is the main thing now and I wouldn't put the UFC to the side to fight ADCC but if I didn't have any important UFC fights coming up than I would probably enter but if ADCC was before a UFC fight than I wouldn't fight in ADCC.
MMANews.com: Is there any message you would like to send out to your fans?
Demian Maia: I'm very happy because I have a lot of support here in America. When I first come here people boo'd the ground game and don't appreciate it but everybody has really started to appreciate my style. That's my style, I like to win by submission and I don't like to win by punch. I was surprised people took to my style and now I have some great fans here and I love fighting here.
MMANews.com: MMA sometimes seems like it has evolved into a strikers game and people tend to want to see the big KO over a ground contest but you have brought in a different type of fast paced, slick BJJ that has people very entertained.
Demian Maia: You know sometimes a lot of people want to see the KO but they also want to see a submission but they don't want to see someone laying on another fighter and trying to ground and pound because it can be boring. People want to see fighters go for the submission like they go for the knock out. It can be more interesting if you stand up but if you have good submission than people will watch and appreciate it and understand.
MMANews.com: Are there any sponsors out there you would like to mention or thank?
Demian Maia: I really want to thank Eternal Unlimited. They really support me and they are great guys. They are growing you know? They started their brand a little over a year ago and I think they are really going to develop into something special and I'm happy to have them behind me. I also want to thank the UFC and all my coaches, friends, and fans that support me for my fights.
MMANews.com: Ok Demian, thank you for speaking with me today and I would like to wish you luck against Chael at UFC 95
Demian Maia: Thank you very much Chris.
DISCUSS THIS NEWS IN THE MMANEWS.COM FORUMS >>
Want to advertise your site in this space? E-mail the website staff today!