By Chris Howie
April 16th, 2009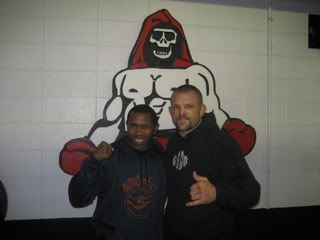 After going 1-3 (two of those losses via brutal KO's) in his last four fights following an impressive streak of seven straight victories in which he would reign as the UFC Light Heavyweight Champion for over two years, Chuck "The Iceman" Liddell (21-6) knew something had to change if he wanted to continue to compete in the upper echelon of fighters in a heavy talent pool of 205lb fighters in the UFC. So, with long time trainer John Hackleman behind him, Liddell sought training from one of the top gyms in the world in Florida, at American Top Team. This is where he would begin to remold his striking with 1976 Olympic Gold Medalist in boxing, Howard Davis Jr.
In the months leading up to this weekend's showdown with Mauricio "Shogun" Rua (17-3) at UFC 97 in Montreal, Liddell would bring Davis Jr. out to his home gym, The Pit, in San Luis Obispo, CA.
"Chuck and John came down to Florida to ATT to train with us and I guess they liked what I was doing with him because John called me to come out to California to help them there." Davis Jr. tells MMANews.com. "Training camp has been going really well. He's been doing extremely well."
In a sport such as mixed martial arts, where the game is continuously evolving, Liddell who is known as "The Iceman" for a reason had been on the receiving end of two highlight reel KO's at the hands of Rashad Evans and Quinton Jackson and Davis Jr. feels that in working with Liddell he has helped him brush up in areas that have been causing him problems.
"We have been working with him on avoiding the right hand, slipping and blocking the right. We also worked him using his legs more and jab more as well as head movements, faints, and things of that nature."
Speed also appeared to be a factor for Liddell as was apparent in the bout with Evans. At the moment of the KO punch, Liddell was also in motion for a big punch but Evans would get there quicker and knock the 39 year old out cold.
"Chuck needs to see punches coming at him." started Davis Jr. "Some fighters close their eyes before a punch hits them and they don't watch the punch come at them which means they don't have enough time to slip. I'll use the analogy of a pitcher throwing the ball at someone who can hit a baseball extremely well like a Barry Bonds or a Hank Aaron. The reason these guys were exceptional was because they could see the ball come out of the pitchers glove and were able to slow the ball down so to speak so they could hit it. It's the same with defense. If you don't see the punch coming nine times out of ten you are going to get hit."
The UFC 97 bout will be no small task for Liddell as Shogun, who has also been on a lackluster run lately with a disappointing performance against Mark Coleman in December, is also a former number one ranked light heavyweight and will be hungry to get back to the top through "The Iceman". Davis Jr. feels that after watching and helping Chuck leading up to the bout that the former champ won't have any problems with the Brazilian.
"I see Chuck winning in all aspects – takedowns, grappling, striking. I definitely give Chuck my A+ on his striking and defense. He's improved dramatically on his defense. He avoids right hands over 90% of the time and he is on point. We watched some film on Shogun, he's a good fighter. He's good on the ground but Chuck has great defense for the ground. I don't see a major problem with Shogun for Chuck. We were a little concerned about the jiu-jitsu aspect but Chuck has all the tools to stay out of those situations so there is really no way I see Shogun beating him."
Fans do not have very much time to wait to see if a new and improved Liddell comes out against Shogun as UFC 97 takes place this weekend from the Bell Centre in Montreal, QC, Canada and airs live on PPV. Many questions will remain unanswered until the bell sounds for their scheduled three round bout but one thing is for sure, this fight could be explosive and someone may take a nap before all is said and done.
*Note* Watch for Howard Davis Jr. to promote his first MMA card this summer. Harold gives the following details:
"It's going to be Brazil vs. The USA on August 22nd in the Fort Lauderdale area. It's going to be a big show and I hope everyone comes out to see it. It will be one of the first shows in terms of country vs. country. We are looking forward to putting it together. The card is still in the planning phase but expect to see some of the top American and Brazilian fighters in the world."
Anyone interested in sponsorship opportunities can contact Howard through his web page by clicking HERE.