By Chris Howie
MMANEWS.COM Staff Writer
If you haven't heard the name Tyron Woodley before now may be a good time to get familiar with it. Woodley has been one of Strikeforce's rising stars and on January 7th will be back in action for the first time in 2012.
Woodley enjoyed success in 2011, fighting only twice but winning both times against tough opponents Tarec Saffiedine and Paul "Semtex" Daley.
Outside of the cage has also been successful for Woodley, he opened a new gym in St. Louis this past week and MMANews.com had a chance to chat with him about the grand opening celebrations as well as his January 7th match up with Jordan Mein.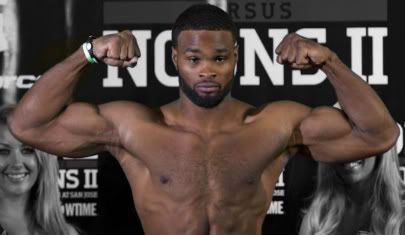 MMANew.com: We're speaking with Tyron Woodley today here on MMANews.com, how are you today Tyron?
Tyron Woodley: I'm doing good man.
MMANews.com: You had the big grand opening of your new gym this past weekend, how did it go?
Tyron Woodley: It went well. We had a lot of people in. We did a traditional grand opening and topped it off on Sunday with an appearance by Randy Couture to promote his new book. On Saturday we showcased my employees and all the trainers I have here. I want them start to increase their brand as well so we had them on display and they gave some demonstrations. My Muay Thai coach wanted to do a demonstration and we basically displayed the facility and showed everyone why it's important for American Top Team to be here. A lot of people don't know what American Top Team is so we've got to educate them and bring them up to speed. They all see us fighting on TV and winning world titles but I want to show them that everyone is qualified.
MMANew.com: Tell us a little about the gym…
Tyron Woodley: Basically we specialize in MMA. It's a one stop shop. We offer kids classes, women