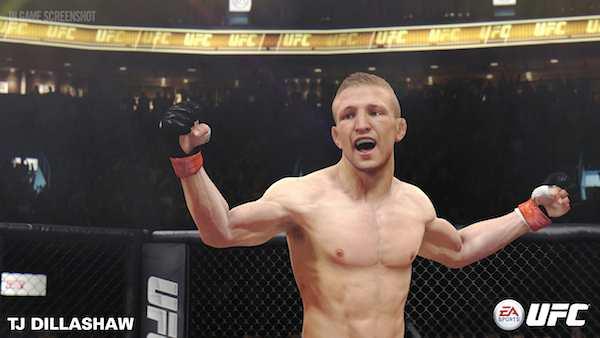 A major EA UFC patch was released on Tuesday, adding three new fighters to the game and making dozens of other tweaks to gameplay and presentation.
The new additions to the roster include UFC Bantamweight Champion TJ Dillashaw, Takeya Mizugak and Tyron Woodley. There are also significant improvements with frame rate, animations and physics issues – hopefully (or not?) fixing stuff like this:
Here's a breakdown of all the changes to the game as a result of the EA UFC patch, courtesy of the official EA MMA Forum:
New Fighters:
TJ Dillashaw and Takeya Mizugaki (Bantamweight)
Tyron Woodley (Welterweight)
General:
Updates to fighter records.
Updated TJ Dillashaw to be Bantamweight Champion in Career and the Default fighter in Fight Now.
Updated Alexander Gustafsson's tattoo.
Gameplay:
Added Finish the Fight, allowing users to land extra shots after a knockout.
Added sprawls when defending Power Takedowns.
Added ability to touch gloves at the start of every round.
Added animation to submissive fighter when attempting full guard sweep to a postured opponent in full guard.
Fixed an exploit where Dominant fighter in full mount could sneak in punches from Posturing up.
Removed Power takedown and side control sweeps from fighter that should not have them.
Stamina and damage changes are now relative to Accelerated Clock.
Stamina no longer regenerates if user holds block.
User takes a larger stamina penalty when hit while weak blocking.
Dominant fighter in full guard has larger window to reverse the full guard sweep to mount. animation of sweep takes longer.
Fixed rare submission issue where gates could be skipped.
Fixed issues with framerate during gameplay.
Fixed rare issue with loss of takedown functionality after denying cage clench.
Fixed issues with referee standup during TKOs and submissions.
Fixed various physics issues.
Fixed various animation issues.
Audio 
Updates to ring announcer commentary .
Online: 
Opened Red Belt division in championships.
Opened Grand Prix Invitational tournament in Championships.
Fixed leaderboards stats.
Fixed online disconnects resting user's fighter in tourneys.
Fixed onoine siconnects not reporting the game and no DNF given.
Fixed issue with uploading highlight reels when game is suspended.
Misc. 
Added a EULA title in the extras menu.
Update to filtering of tutorial videos based on Language Settings.