Women's 135-pound champion Amanda Nunes has broken her silence on the reasons for her last minute withdrawal from her main event bout with Valentina Shevchenko at UFC 213 on Saturday night
In a post uploaded to her official Twitter page, Nunes claims that she was suffering from 'chronic sinusitis' and that she 'felt off balance' prior to the bout: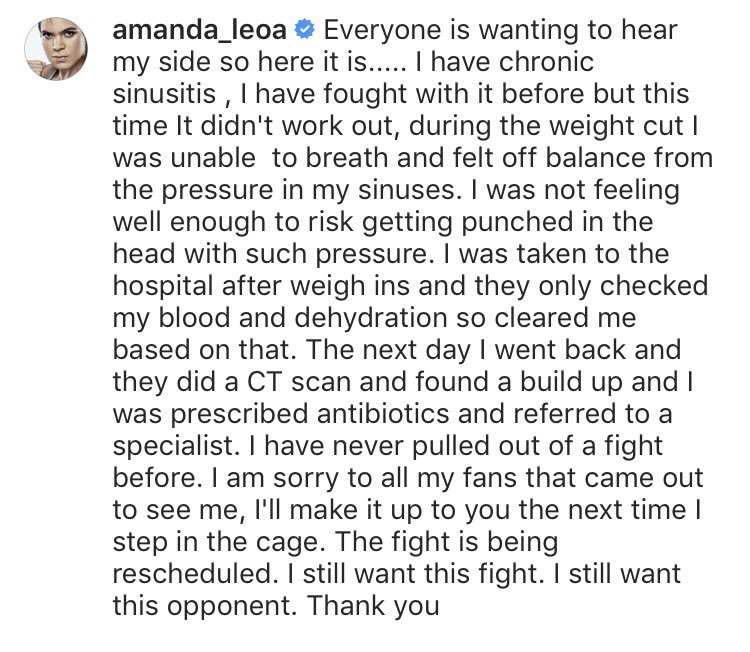 "Everyone is wanting to hear my side so here it is….. I have chronic sinusitis , I have fought with it before but this time It didn't work out, during the weight cut I was unable to breath and felt off balance from the pressure in my sinuses. I was not feeling well enough to risk getting punched in the head with such pressure. I was taken to the hospital after weigh ins and they only checked my blood and dehydration so cleared me based on that. The next day I went back and they did a CT scan and found a build up and I was prescribed antibiotics and referred to a specialist. I have never pulled out of a fight before. I am sorry to all my fans that came out to see me, I'll make it up to you the next time I step in the cage. The fight is being rescheduled. I still want this fight. I still want this opponent. Thank you"
Nunes and Shevchenko is likely to happen at UFC 205, although Dana White did confirm after UFC 213 on Saturday that Nunes will never headline another UFC bout as champion.