Kamaru Usman has caught wind of Jorge Masvidal's recent comments painting him as a "coward," and the welterweight champion is still trying to make sense of it.
It's fight week, ladies and gentlemen, and we will all bear witness to not one, not two, but three title fights at UFC 261 this Saturday. Typically, Valentina Shevchenko, Jessica Andrade, Weili Zhang, and Rose Namajunas are all pretty mild-mannered and devoid of any trash talk. Many may definitely argue that Namajunas deviated from this pattern when she suggested that her bout against Zhang would be a fight against communism, but still, those four ladies have historically been very laid back and respectful of their opponents in every way. 
The same can't necessarily be said for Jorge Masvidal and Kamaru Usman. One need only look at the heated build-up to their first fight at UFC 251 as just one example of how these two welterweights can work their jaws before taping up come fight night. In a recent interview with ESPN, Masvidal picked up where the UFC 251 trash talk left off by calling Usman a coward for the style the champion used to defeat him in their first encounter.
Kamaru Usman Responds To Being Called A Coward
When asked about these remarks, Usman was too taken aback by the mere fact that Masvidal would even insult him like this to even bother countering the insult itself.
"That's pretty harsh when a guy's giving you two chances and you've made the most money you've ever made in your career and putting you on the biggest stage you've ever been in your career," Usman said in an interview with MMA Junkie. "That's kinda tough. You're fighting in a title fight back-to-back times. To call a guy a coward, that seems a little silly to me.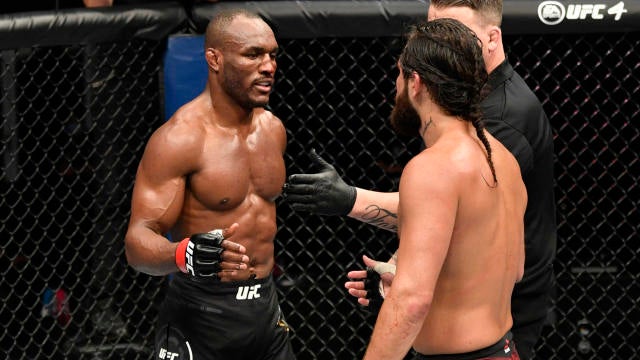 "At the end of the day, I've never taken anything away from him. He's a good fighter. He's a really, really good fighter. I've always shown him that respect….yeah, he's a good fighter. I just think I'm a great fighter and I'm an elite fighter when these guys are good fighters. So at the end of the day, we're gonna have to go in there, step in, and I'll make it happen again."
Kamaru Usman has recently made headlines by reiterating that Jorge Masvidal is a "journeyman." These comments could have been perceived as Usman drawing first blood with the trash-talking this time, which could have prompted Masvidal to come back swinging hard. Usman insisted that his assessment of Masvidal was not molded out of any criticism and that, in fact, the word "journeyman" erroneously has a negative connotation attached to it. 
Now that it's fight week, it only seems likely that the war of words between these two verbose individuals will only escalate further after already getting off to this contentious start.
What are your thoughts on Kamaru Usman's response to Jorge Masvidal calling him a coward?