When MMA officials are going over the rules and expectations for fighters backstage before an event, UFC Vegas 33 headliner Uriah Hall is sure to give them some guidance as well in an impassioned plea made prior to each of his fights.
Uriah Hall has proven to have among the highest fighting IQ in the middleweight division. It's for this reason that despite being consistently reliant on standup fighting in his bouts against some of the most dangerous men in the sport, "Primetime" only has 3 TKO losses out of 17 fights in the UFC.
On the flip side, 13 of Hall's 17 professional wins have come by KO/TKO. Aside from the chase of a decisive finish being embedded in his volatile fighting style, that statistic can also be attributed to Hall's desire to leave it out of the hands of three people he does not know and does not trust.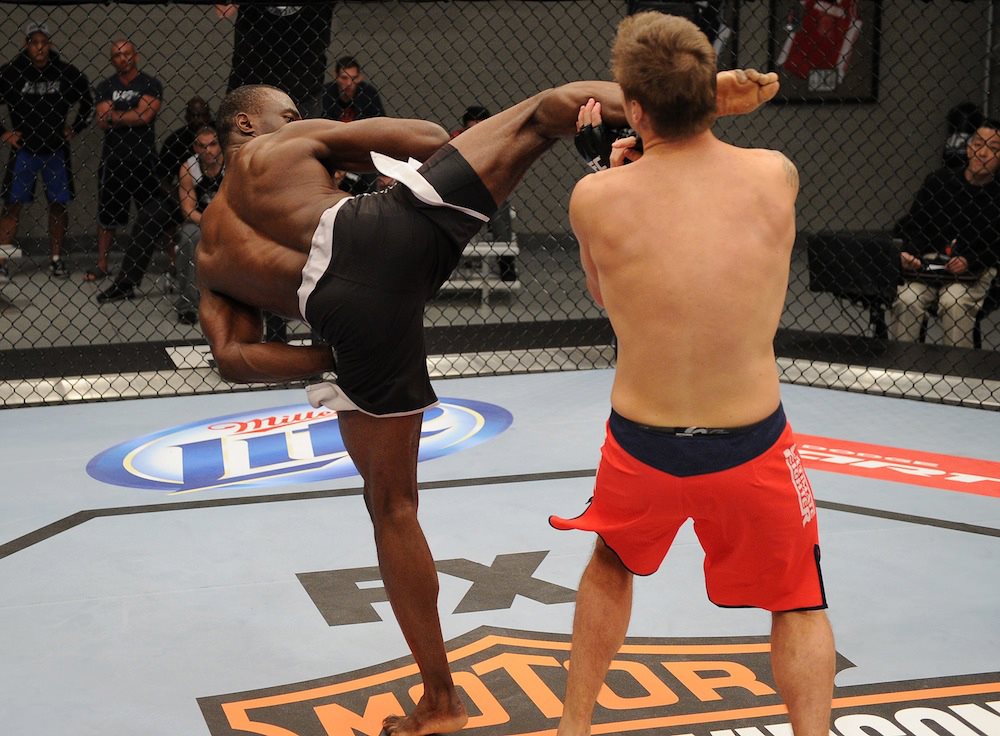 "I try," Hall told Yahoo Sports about taking fights out of the hands of the judges. "I try to go out there, cut their throat, and leave them bleeding. That's the mentality because, I mean, again, I'm not going to say anything, but look at this weekend, man. You're like, wait. What fight were these people watching? It's like, who– I just don't understand the judging. I don't understand what give these people this criteria or who put these people in charge of my life, my career."
At least weekend's UFC Vegas 32, there were multiple questionable scorecards from the event, perhaps most notably the bout between Miranda Maverick and Maycee Barber, in which 22 out of 22 media outlets scored the fight for Barber according to MMADecisions.com, yet two of the three judges saw the fight differently.
Uriah Hall has every intention of doing everything in his power to avoid being the center of Monday morning conversations about the judging and would much rather be talked about for another highlight-reel finish. And in the event that it's Hall who is on the other side of the finish, he would prefer to leave the power just as much out of the official's hands as the judges.
Uriah Hall's Plea To MMA Officials Prior To Each Fight
If there is one topic discussed nearly as much as the judging in MMA, it's the questioning of stoppages. Sometimes referees are damned if they do and damned if they don't, which can oftentimes lead to stoppages that are deemed premature and questionable.
For Uriah Hall, he doesn't believe that there is any sincere concern from the referees about the fighters' well-being, which is the standard explanation behind stoppages that err towards the side of caution. Consequently, Hall goes out of his way to emphasize to the officials that it is his livelihood on the line and that he should be able to go out on his terms.
"And when I'm backstage, I always say this. Whoever is the ref, I say, listen, let me go out. Let me tap. I couldn't give two shits about you thinking about my safety because at the end of the day, it's all about liability for you.
"You really don't care. It's liability. I'm out there fighting for my life. I care more, so let me go out like a man or let me tap like whatever."
When Hall makes this request, he describes the resistance he picks up on from the officials, but he tries not to let them exit the conversation without a full understanding of his wishes.
"They like– they still go over the, yeah, 'I understand that,' blah, blah, blah, and I say it again. And they're like, 'All right, I'll do my best.' I'm like, 'Please, let me go out. Just let me go out.'"
We will learn tomorrow night if Uriah Hall will be on either side of a stoppage when he takes on another highly skilled striker in Sean Strickland in the UFC Vegas 33 main event. The prelims kick off at 6:00 PM EST, with the main card beginning at 9:00 PM.