If Tyron Woodley does get a rematch against Jake Paul, he's going to have to wait for it now that Paul has formally announced his fight with Tommy Fury.
After previous unconfirmed reports, Jake Paul confirmed the fight via Twitter on Friday.
"Pucker up Timmy, it's time to kiss ur last name and ur family's boxing legacy goodbye. DEC 18th Im changing this wankers name to Tommy Fumbles and celebrating with Tom Brady. Tickets on sale November 10th!"
As seen on the poster, the fight will be available on Showtime PPV and will take place in the Amalie Arena in Tampa, Florida. And as Paul referenced in his announcement, Fury will literally be putting his name on the line.
Paul Makes New Bet With Fury After Cashing In On Woodley Bet
On August 29, Jake Paul defeated Tyron Woodley via split decision. When the fight was over, Woodley was already campaigning for a rematch while both competitors were still in the ring. Paul agreed to grant Woodley the rematch if he followed through on their tattoo bet and immediately get the "I Love Jake Paul" tattoo.
Weeks later, Woodley finally caved and got the tattoo, hoping that this would seal the rematch. Instead, Paul has a new opponent and a new bet.
Jake Paul and Tommy Fury have been trash-talking one another for some time, including backstage after the Paul/Woodley bout. Fury had competed in the undercard of the event, picking up a unanimous decision victory over Anthony Taylor. When the two ran into one another, they had a heated exchange, which set the stage for a future bout.
Paul made the negotiations between himself and Fury public, offering the Englishman a $1 million payday to accept the fight. Fury rejected the offer but things took a turn when big brother Tyson got involved in the mix.
Tommy's older brother, lineal heavyweight champion Tyson Fury, stated that if Tommy loses to Jake Paul, he would force his little brother to change his last name. This sparked an idea from "The Problem Child," who made the following bet proposal: If Fury beats him, then Fury gets paid an additional $500,000 on top of the $1 million base salary. However, if Paul defeats Fury, Fury must legally change his name to "Tommy Fumbles."
Fury quickly accepted Paul's conditions, which led to the following celebration from Paul on social media.
"Ladies and gentlemen, the bank robbery has commenced!" a giddy Paul announced to his Twitter followers.
Here's a look at the terms as laid out in the official contract: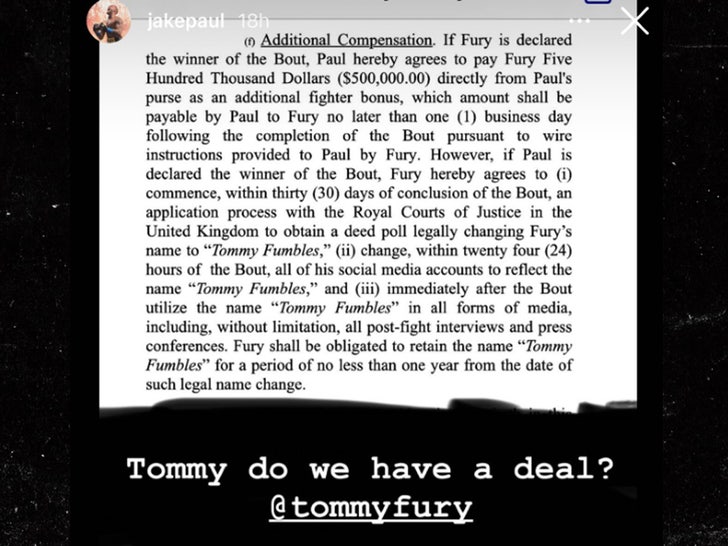 Keep it locked on MMANews.com for all the additional details on the Dec. 18 Jake Paul vs. Tommy Fury event!